Bee Jays Begin Road Trip with a Blowout
Brock Kappelmann - July 17, 2020 6:33 am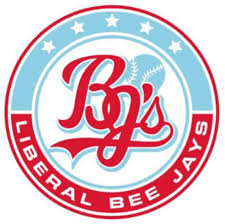 The Liberal Bee Jays began their four game road trip to Colorado with a 15-2 win over the Denver Cougars in Boulder Thursday night.  The BJ's banged out 18 hits.  Liberal did not commit an error for the fourth straight game.  Four BJ pitchers allowed just three hits.
Liberal scored five in the fourth, three in the sixth, one in the eighth, and six in the ninth.  Caeden Trenkle was 4-5.  Kade Brewer homered and hit two doubles and was 3-5 with five RBI's.  Wilson Ehrhardt was 3-5 with four RBI's.  Aidan Shepardson was 3-5 with two doubles and two RBI's.
Cole Evans went five strong innings for the win.  Evans struck out eight and walked one while allowing one run.  Calvin Hunt went two innings allowing one run.  Kyle Duffey pitched one scoreless inning and Rafferty Brown went one scoreless inning.
Liberal is 21-3.  They remain in Boulder to play the Boulder Collegians Friday night at 6 at Carpenter Field in Boulder.