Beaver Leans on Line
KSCB News - August 18, 2011 4:26 pm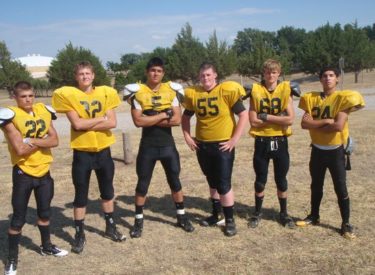 The good news is the Beaver Dusters are coming off a 9-2 season which saw brought a return to the post season in Beaver for the first time since 2007. The bad news is Beaver lost 11 seniors and returns just two starters from that team at the Class A school. But 17th year Beaver head coach Mike McVay still likes the makeup of his team, especially up front.
The two returning starters are lineman. Senior offensive lineman and linebacker David Rivera and junior lineman Kalen Gabel return from last year's team. Other key Dusters include senior Zack Pugh, senior wingback and defensive back Tyler Hessman, senior lineman Carson Depew, senior wide receiver and defensive end Austin Reed, and senior quarterback Luis Chavez. McVay thinks Chavez may have the best understanding of the offense of the recent Beaver QB's. Chavez played behind Samuel Becker the past three years.
Beaver has 23 out for football. Interviews with the Duster seniors and coach Mike McVay will air during the Friday Sportsguys between 7:37 and 9 on Talkradio 1270 and kscbnews.net.
2011 Schedule
Sept. 2- at Turpin
Sept. 9- Hollis
Sept. 16- Booker
Sept. 23- at Texhoma
Sept. 30- at Oklahoma Bible Academy (Edmond)
Oct. 7- Mooreland
Oct. 14- at Hooker
Oct. 20- Thomas
Oct. 28- at Fairview
Nov. 4- Turpin