B.J.'s Fall to 0-2 at NBC World Series
Brock Kappelmann - August 1, 2017 7:20 am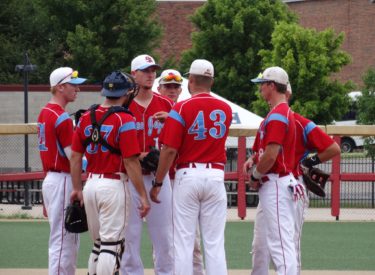 The big hit has been lacking.  Throughout a Jayhawk League championship season, when the Liberal Bee Jays needed a big hit, they got it.  But at the NBC World Series, they are struggling to score.  The Colorado Cyclones beat the Bee Jays 3-1 Monday afternoon at Lawrence-Dumont Stadium in Wichita.  Liberal is 0-2 and out of NBC World Series championship contention.
The Cyclones started a pitcher Braxton Lorenzini who was just cut by the Padres.  He was consistently throwing in the 90's and up to 94 miles per hour.  The B.J.'s loaded the bases in both the second and third innings and scored only one run.
Liberal's pitching was very good.  Zach Autin went six strong innings allowing two runs.  Joe Corbett, a newcomer from the Oklahoma City Indians, pitched three innings with five strikeouts.
The Cyclones scored in the top of the second.  A walk, a passed ball, and two ground outs manufactured a run.  Liberal loaded the bases with no outs in the bottom of the inning but only scored one run on a sacrifice fly by Kyle Schmidt scoring Colton Onstott.  The Cyclones scored another run on a double over the B.J. right fielder's head for a 2-1 lead.  At that point, the Cyclones scored two runs on one hit, three walks, and one HBP.  Liberal loaded the bases in the bottom of the inning and did not score.  Liberal added two more singles in the eighth but did not score.  Colorado scored one in the ninth.
Liberal is 31-15-1 and will player their final game against the Kansas Stars Wednesday at 7 on 1270 and kscbnews.net.