Ashlynn Knoll KJCCC Player of the Week
KSCB News - November 16, 2011 11:53 am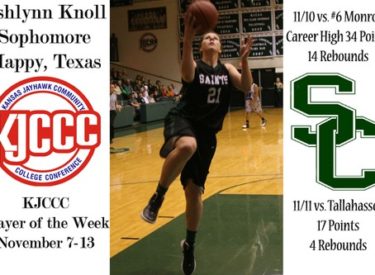 After a monster weekend in which she helped Seward
County to two wins over stiff competition, Lady Saints sophomore Ashlynn
Knoll has been named the KJCCC Player of the Week, the second time in
her Seward career she has won the award. You couldn't have asked for
much more from Knoll this week, as the Lady Saints star forward averaged
25.5 points and 9.0 rebounds while shooting 50% from the field and 50%
from the three point line against two top notch teams in the Sunshine
State. Thursday against the defending Division II National Champions
Monroe, Knoll scorched the nets for a career high 34 points and 14
rebounds in 31 minutes of work, while hitting on 3 of 4 from the three
point line. She followed that up with a pedestrian 17 point ballgame,
again hitting a trio of three pointers as Seward edged out Tallahassee
for a six point win.