Ashford Shuts Down Dodge City
KSCB News - July 15, 2014 6:25 am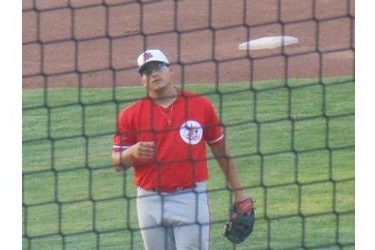 After being shut out two straight games Friday and Saturday, the Liberal pitching staff has pitched two straight shutout games. After the 2-0 win at El Dorado Sunday, the Bee Jays blanked the Dodge City A's Monday night in Dodge City's Cavalier Field. Ray Ashford pitched into the ninth and went eight strong innings as the BJ's won 7-0.
Liberal scored four unearned runs in the third. A DC error kept the inning alive and allowed two BJ's to score. Mike Rampone lined a double left of center to drive home two more runs. The BJ's scored four runs on just two hits, three walks, a beanball, and an error. THe BJ's addeda run in the fifth when Seth Stevens stole second base and Rampone raced home from third and scored standing up. The Bee Jays added two in the seventh when Rampone launched a double to the wall in left center to score two runs.
Ray Ashford pitched eight innings with five strikeouts and one walk. Ryan Scott pitched a scoreless inning. Rampone was 3-5 with four RBI's. Alec Isaac and Kyle Lieser added two hits a piece.
Liberal is 18-17 with a 12-17 Jayhawk League record. Dodge City is 16-19 and 8-19 in the Jayhawk. Liberal is 3-0 at Dodge City and 5-11 in league road games this season.
Liberal hosts the NBC World Series bound Puerto Rico Collegians Tuesday night at 7 at Brent Gould Field. J&R Sand and KSCB are the buyout sponsors.
Wellington 22-3
Derby 15-12
Hays 14-12
Liberal 12-17
El Dorado 10-18
Dodge City 8-19