Area Students Win Youth Trips
Joe Denoyer - February 20, 2020 11:41 am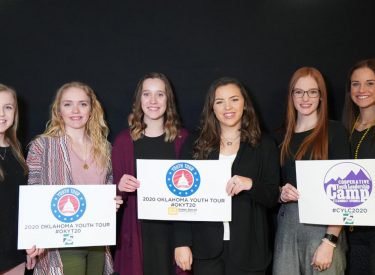 Six area students have been selected to go on summer trips courtesy of TCEC. They were recognized at a banquet on Feb. 18 and will travel over the summer.
Washington D.C. Youth Tour
Four high school juniors will go on the Rural Electric Youth Tour trip to Washington, D.C. from June 19-25. They will join about 1,500 other delegates from across the U.S. One of the four delegates is sponsored by TCEC's wholesale power supplier Golden Spread Electric Cooperative.
The four Youth Tour delegates are:
Shaybree Hanes, Elkhart High School
Brooklyn Romero, Turpin High School
Aubrey Schumacher, Yarbrough High School
Natalie Watson, Guymon High School
These students will visit 18 historical sites including the Lincoln Monument, several war memorials, Library of Congress, the Changing of the Guard at the Arlington Cemetery, and the U.S. Capitol. Five museums included are the Holocaust Museum, the American and Natural History Smithsonian, the National Archives and the famed Ford's Theater.
Leadership Camp in Steamboat Springs, Colorado
Two high school juniors will travel to Steamboat Springs, Colorado, as part of the Youth Leadership Camp from July 10-16.
The two Leadership Camp delegates are:
Zylee Ipson, Turpin High School
Kaylee Woolman, Boise City High School
This fun-packed trip starts with a car ride to a tour bus in Kansas then kicks off in Denver. The rest of the week is spent at Glen Eden Resort near Steamboat Springs, Colorado, with activities for the delegates to get to know each other, tours of Trapper Mine and the Craig Station Power Plant, river rafting, interactive leadership skill activities, and HawkQuest raptors exhibit. There are plenty of games, a talent show, dinner and dance.
About the trips
TCEC pays transportation, lodging, meals and other incidental costs incurred with all trips. Students are responsible for souvenirs and any extra personal items they may need.
If you know a student who will be a junior in the 2020-2021 school year, encourage them to submit their name when applications open in early November. More details are available online at 
www.tcec.coop
 under 'Our Community' then 'Youth Programs.'