A Senior Day Struggle for Skins at Willow Tree
KSCB News - May 8, 2013 7:19 am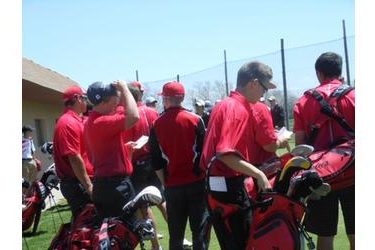 Liberal's golf team hosted the final regular season tournament Tuesday at Willow Tree.
Dodge City won the tournament with a outstanding score of 291 followed by
Hays 325, Garden City 340, Great Bend 343, and Liberal 347
All six of Dodge City's players placed 1-6
Levi Bone 1st 71, Jace Larson 2 71, Zach Norton 3 72, Zach Kirby 4 77, Brad Hutton 5 77, Brayden Winans 6 78.
7th Chance Haney Great Bend 79, 8th Liberal's Blake Stout 79, Kaen Beilman 9th 80, Payton Ruder 80 10th. LHS head coach Kody Thexton says it's now or never for his golfers.
"We HAVE to stay focused for a shot at state. We have regionals at Liberal, so I hope we will wake up and play the way we practice. The seniors have to get it done or they WILL be done."
Regional starts at 9 am on Monday May 13 at Willow Tree in Liberal. Goddard, Goddard Eisenhower, Great Bend, Hays, Salina Central, and Salina South compete at 5A regionals Monday.