A Complete Weekend for Saints in Hutchinson
KSCB News - April 9, 2012 7:09 am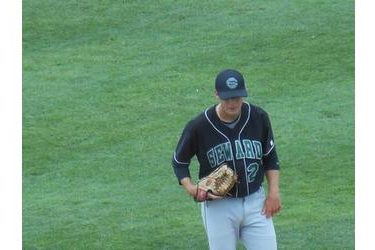 The Seward County Saints won three of four games at Hutchinson thanks in part to three complete games by Seward starting pitchers. Seward won Friday 3-1 and 7-0 before splitting Saturday losing 5-4 but winning 9-1.
Friday, Keegan Hucul (5-2) threw his second straight complete game three hitter. Jake Barrios was 2-3 in the win.
In game two, Gavin Glanz (7-1) pitched his second straight nine inning complete game. The Oral Roberts signee struck out eight and didn't issue a walk in the win. Barrios was 3-5 with three RBI's. Willie Gustin and Carlos Dorado added two hits a piece.
Saturday, Hutchinson won the first game 5-4 when Johnny Griffith beaned a batter to score the winning run in the bottom of the seventh. The Saints led the game 4-2 until the bottom of the sixth when the Blue Dragons plated two to tie it. Carlos Dorado was 2-4 with two RBI's and Kevin Domzalski added two hits.
In the final game of the series, the Saints went off for seven in the fifth inning to break a 1-1 tie. T.J. Looney (5-2) pitched all nine innings for the win. The freshman right hander from Canyon, Texas struck out eight and issued two walks. Sam Pack, Kevin Domzalski, Willie Gustin, and Jake Barrios drove home two runs a piece. Pack wacked two doubles to give him three two baggers in the series. Seward scored nine runs on 14 hits with the wind blowing in.
The Saints are 22-21 overall but 15-9 in the Jayhawk West while Hutchinson is 26-14 overall and 12-8 in the Jayhawk West. The Saints are in first while Garden City is 13-7 and in second.
Seward hosts Clarendon Wednesday at 3 p.m. The Saints host Pratt Saturday and Sunday at 1 p.m. for their next conference games on Talkradio 1270.