17 Year Old Found Dead In Finney County
KSCB News - September 15, 2010 12:00 am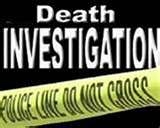 Finney County authorities are investigating the death of a 17-year-old boy.
The teen was found dead in a riverbed south of the 3I lot by someone riding an ATV in the area Tuesday evening.
Officials say the teen is a resident of Garden City and his death does not appear to be suspicious.
An autopsy is being performed in Topeka to determine his exact cause of death. His name has not yet been released.