Wind Advisory Posted for Saturday
KSCB News - April 14, 2012 10:02 am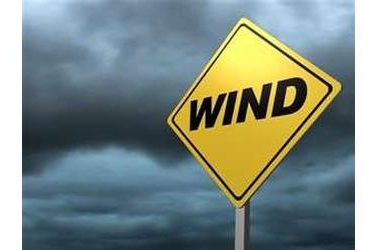 URGENT – WEATHER MESSAGE
NATIONAL WEATHER SERVICE DODGE CITY KS
552 AM CDT SAT APR 14 2012
…STRONG SOUTH WINDS EXPECTED SATURDAY…
.LOW PRESSURE DEEPENING ACROSS NORTHEAST COLORADO INTO WESTERN
NEBRASKA TODAY WILL PRODUCE A STRONG PRESSURE GRADIENT ACROSS
WESTERN KANSAS. DRY AIR BEHIND A DRYLINE WILL ADDITIONALLY AID IN
ALLOWING STRONG WINDS TO MIX TO THE SURFACE.
KSZ030-031-043>046-061>066-074>081-084>090-142100-
/O.CON.KDDC.WI.Y.0018.120414T1800Z-120415T0600Z/
TREGO-ELLIS-SCOTT-LANE-NESS-RUSH-HAMILTON-KEARNY-FINNEY-HODGEMAN-
PAWNEE-STAFFORD-STANTON-GRANT-HASKELL-GRAY-FORD-EDWARDS-KIOWA-
PRATT-MORTON-STEVENS-SEWARD-MEADE-CLARK-COMANCHE-BARBER-
INCLUDING THE CITIES OF…WAKEENEY…CEDAR BLUFF RESERVOIR…
HAYS…ELLIS…SCOTT CITY…DIGHTON…NESS CITY…LA CROSSE…
RUSH CENTER…SYRACUSE…LAKIN…DEERFIELD…GARDEN CITY…
KALVESTA…JETMORE…HANSTON…LARNED…BURDETT…ST. JOHN…
STAFFORD…HUDSON…JOHNSON CITY…ULYSSES…SUBLETTE…SATANTA…
CIMARRON…MONTEZUMA…DODGE CITY…BUCKLIN…KINSLEY…LEWIS…
GREENSBURG…HAVILAND…PRATT…ELKHART…RICHFIELD…HUGOTON…
MOSCOW…LIBERAL…KISMET…MEADE…FOWLER…ASHLAND…MINNEOLA…
COLDWATER…PROTECTION…MEDICINE LODGE…KIOWA…SUN CITY
552 AM CDT SAT APR 14 2012 /452 AM MDT SAT APR 14 2012/
…WIND ADVISORY REMAINS IN EFFECT FROM 1 PM CDT /NOON MDT/ THIS
AFTERNOON TO 1 AM CDT /MIDNIGHT MDT/ SUNDAY…
* TIMING…WINDS WILL INCREASE IN THE LATE MORNING AND BECOME
MOST INTENSE BETWEEN 2 PM AND 6 PM. WINDY CONDITIONS WILL
PERSIST THROUGH TH EVENING.
* WINDS…SOUTH TO SOUTHWEST AT 30 TO 39 MPH WITH GUSTS OF 35 TO
50 MPH.
* IMPACTS…WINDS OF THIS MAGNITUDE CAN MAKE DRIVING DIFFICULT…
ESPECIALLY ON NORTH TO SOUTH ORIENTED ROADS.
PRECAUTIONARY/PREPAREDNESS ACTIONS…
WINDS THIS STRONG CAN MAKE DRIVING DIFFICULT…ESPECIALLY FOR
HIGH PROFILE VEHICLES. USE EXTRA CAUTION.
&&