Seward Defense Falters in Loss at Pratt
Brock Kappelmann - February 1, 2018 7:16 am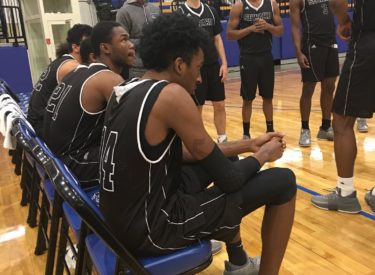 Seward played one of their weakest defensive games of the season as Pratt raced past slumping Seward 80-73 Wednesday night in front of a raucous crowd in the Pratt Beaver Dome.  This is tied for the second most points SCCC has allowed this season.  They allowed 83 at Hutchinson.  The Beavers gashed the Saints making 47 percent of their shots and went 10-21 from three point range.  Pratt executed down the stretch of the game with unguarded lay-ups and open high lane jumpers.
Seward led 32-30 at halftime in a see-saw affair.  The Beavers led much of the second half but a Jamel Horton three pointer made it 71-70 Beavers with 1:48 to play.  Seward trailed 73-70 with the ball with 1:08 to go.  Seward seemed confused by Pratt students' mock countdown of the shot clock.  SCCC forced up an awkward shot with 29 on the shot clock.  Seward never scored again.  The Saints made 43 percent of their shots but just 4-18 of their 3's.  The Saints lost despite an advantage at the foul line.  Seward was 23-28 and Pratt was 12-15.  Jamel Horton scored 15 and Isiah Small added 15 points and eight rebounds.  Anthony Thomas had 13 points and seven assists.
Seward has lost four of their last six and falls into eighth place at 9-9.  Pratt is in ninth at 7-11.  If the playoff started now, Pratt would play at Seward.  The Saints and 13-9 overall and PCC is 10-12.
The Saints will be featured for the Green Line Show Thursday night at 6 at Billy's/Ayr Lanes on 1270 and kscbnews.net.  SCCC plays at Cowley Saturday night at 7:30 in Ark City.  The game airs on 107.5 and kscbnews.net.