Senator Roberts Announces $288,000 Grant to Liberal for Housing
KSCB News - September 29, 2009 12:00 am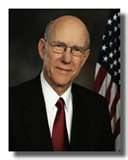 WASHINGTON, DC ź?? U.S. Senator Pat Roberts (R-KS) today announced a $288,000 grant to the city of Liberal for housing.
The funds will be used to provide grants to public or private non-profit organizations and Indian Tribes to provide assistance in recruitment, screening, loan packaging and related activities for prospective Self-Help housing applicants. This project will provide for the coordination and supervision of the construction of 18 homes. This program brings new, modest homes to the community and allows families who otherwise might not be able to afford a home to do so through the contribution of sweat equity.
The grant was awarded by the United States Department of Agricultureź??s Rural Development Office under the Self-Help Housing Grant Program. Senator Roberts is a senior member of the Senate Agriculture Committee.