Search for Kilbourne Called Off for Second Night in Cowley County
KSCB News - September 5, 2013 8:33 am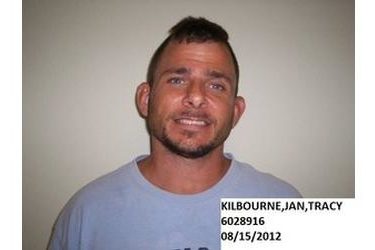 For the second consecutive night, authorities have called off their search in Cowley County for a man who might be the suspect who shot a Butler County sheriff's deputy earlier this week.
Based on trackers' findings, the sheriff's office will decide in the morning whether to resume the search.
Sgt. Doug Allison said there were signs the suspect entered a creek near U.S. 77 about 10 miles north of Winfield, but no other signs were evident.
He said it's possible the suspect hitched a ride from someone on the highway or hopped a freight train on tracks just west of 77. However, the suspect may still be in the area and residents who see a man walking alone are urged to call 911.
Sgt. Allison says, "The trackers have told me they see indications he knows what he's doing as far as crossing roadways and that kind of thing. He's studied up on how to conceal his movement."
The "trackers" are officers specially trained in searching. The "Cowley Trackers" have been used numerous times since they formed in 2002 to help solve crimes and find missing persons there.
---
Previous story:
The search is ongoing for the man accused of shooting a Butler County sheriff's deputy earlier this week, and now a reward is being offered in connection to the case.
Several agencies have been searching for 41-year-old Jan Tracy Kilbourne after he allegedly shot the deputy during a traffic stop near U.S. 54 between Santa Fe Lake Road and Indianola Road early Monday morning. Officers spent several hours searching for him, but he was never located.