Saints Jump to Highest Tennis Ranking in School History
KSCB News - March 24, 2015 1:11 pm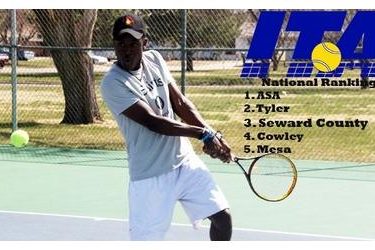 The Seward County Men's Tennis team climbed three spots in the latest ITA National Rankings on Monday to claim their highest ranking in program history at #3.
The Saints are unbeaten this season at 5-0 and haven't even been challenged since their current lineup was formed at the start of March. Seward has blanked their opponents in three straight matches 9-0 and in that span, have outscored their opponents in game counts 288-44.
Ronzai Saurombe, Vitor Galvao, and Felipe Casares all lead the way for Seward at 5-0 on the season in singles action. New additions to the Saints current starting lineup, Alvaro Regnifo, Tare Mariga, and Paul Arslanian are all 3-0 on the year. In doubles play Saurombe and Galvao are also unbeaten as a team at 5-0. The Saints current #2 duo in Casares and Regnifo are 2-0 together and Mariga and Arslanian have yet to be beaten at 3-0 at #3.
The Saints check in at #3 in the poll, right on the heels of defending National Champions ASA and perennial power Tyler. Behind Seward at #3 is Jayhawk rival Cowley, followed by Mesa, Collin, and Seminole State.
Seward will get their stiffest test thus far in the coming weeks as they take on #22 Barton Tuesday, #4 Cowley Saturday, and likely three other top 10 teams next weekend in Seminole State's Dual Match Classic.
Roy Allen