Saints Claw Cougars
KSCB News - March 25, 2011 9:03 pm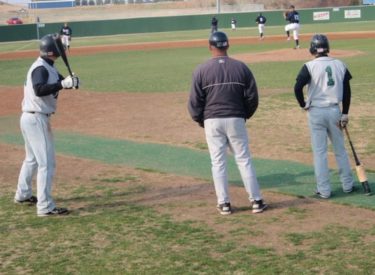 The first place Seward County Saints swept a double header at Barton Saturday at Biggs-Lawson Field at Great Bend. The Saints took the first game 6-2 before holding on for a 5-3 game two win. Logan Hall (4-1) pitched all seven innings of game one allowing just four hits. Seward scored two in the first, one in the third, one in the sixth, and two in the seventh for the win. Tanner Rainey, Jordan Dallalio, JT Bean, Jon Mestas, and Eddie Williams had two hits a piece. Rainey and Steven Polito had two RBI's a piece. It was Polito's first game in over a month after a shoulder injury. His two out, two RBI single in the first set the tone for the game.
In game two, Gavin Glanz (3-0) pitched six strong innings with three strikeouts and one walk. Keegan Hucul went three innings for his first save. The Saints jumped on Barton for five first inning runs. Dallalio, Bean, and Mestas had two hits a piece. Mestas and Brittain Ibbotson both had two RBI basehits in the first. The other run scored on a walk.
Seward is 22-12 overall and 11-3 in the Jayhawk West after their sixth straight win over the Cougars who are 16-13 overall and 7-7 in conference. The two teams meet Saturday in Great Bend on Talkradio 1270 and kscbnews.net. The first game is scheduled for 1 p.m. but will be pushed back due to wet and misty conditions in Great Bend.