Megalodon Coming to MAAM
KSCB News - January 30, 2015 12:25 pm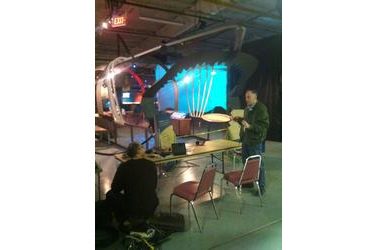 Almost two years after hosting a dinosaur exhibit, the Mid America Air Museum is again celebrating the pre-historic past. The Megalodon prehistoric shark exhibit opens at MAAM on Saturday. There is a gala Friday night for dignitaries to celebrate the opening of the exhibit. The Megalodon exhibit will be in Liberal through May 3. The museum is open weekdays 8-5, Saturday 10-5, and Sunday 1-4. KSCB's Sportsguys broadcast live from MAAM Friday morning.
Megalodon is a 5,000-square-foot traveling exhibit highlights the evolution, biology and misconceptions of Megalodon, an enormous prehistoric shark that once cruised all the world's oceans. Related to the modern great white and mako sharks, Megalodon was a dominant marine predator for 15 million years before vanishing 2 million years ago.
The exhibit conveys current research findings of Florida Museum paleontologists, and showcases both fossil and modern shark specimens and full-scale models from several collections. People have collected Megalodon teeth for thousands of years, and today Megalodon has near-cult status. The exhibit capitalizes on the public's fascination with fossil sharks as ambassadors for science and shark conservation.