Lunch and Learn at MAAM
Joe Denoyer - January 12, 2018 4:58 pm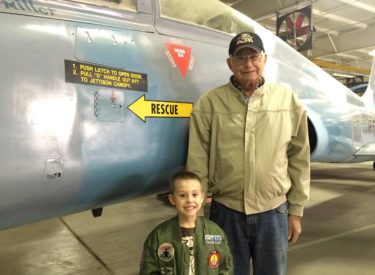 The Mid-America Air Museum is excited to announce our first quarterly Lunch and Learn.  Join us Thursday, January 18th, at noon as local resident, Bob Keating, speaks about his memories and knowledge of the Liberal Army Airfield, the airport, and the creation of the Mid-America Air Museum.
Mr. Keating, his family, and his wife's family all have many ties with aviation, including owning a local hardware store with aviation pioneer Glen Martin's family.
Mr. Keating was born and raised in Liberal.  He graduated from Liberal High School, attended Panhandle State University, and then returned to Liberal to begin farming.  His farming career spanned 51 years.  He is a pilot, flying mostly single-engine aircraft.  He served in the army and was stationed in Germany for 3 years.  He and his wife, Sharon, still live in Liberal and Bob is an amazing volunteer here at the museum.
We invited you to bring your lunch and enjoy your lunch hour learning more about Liberal's rich aviation history.
For more information, call 620.624.5263.