Hucul and Glanz Continue Historic Climb in Saints Sweep
KSCB News - April 29, 2012 10:16 am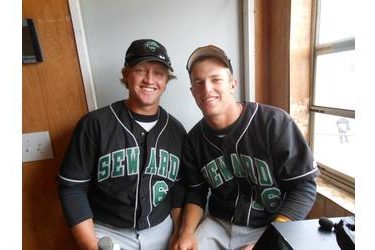 Gavin Glanz is 10-1 and Keegan Hucul is 9-2 after Seward swept Colby 7-2 and 13-2 Saturday at Trojan Field in Colby. Glanz won game two and ties Robbie McClellan and Tomas Cruz for fourth all time in career wins while Hucul ties Brett Davis,Eric Maydew, Jordan McClintick, Christian Kowalchuk, and Bobby Doran for eighth.
Hucul pitched the Saints to the game one win going all seven innings and striking out seven. Kevin Domzalski blasted two home runs giving him a team leading nine for the season. Steven Polito's three RBI double in the sixth blew the game open.
Glanz pitched all eight innings of the game two run rule. Glanz allowed three hits and no earned runs. He ties Darrell Maus, Mike Done, Bobby Doran, and Logan Hall for seventh all time in single season victories at Seward. Tanner Rainey was 2-5 with a homerun, a double, and four RBI's. Domzalski was 3-5 with two RBI's. Sam Pack went 2-3 with three RBI's.
Seward clinches the top Jayhawk West seed in next weekend's Region 6 Tournament. The Saints will host a super regional next weekend with the number eight and four teams from the east and the number five team from the west coming to Brent Gould Field for a four team double elimination tournament.
But the Saints have unfinished business Sunday at Colby where they will play a double header beginning at 1 p.m. on Talkradio 1270 and kscbnews.net. Seward is in a three way tie for first in the conference with Hutchinson and Garden City. The Saints have won or shared nine of the past 11 Jayhawk West titles.