Controversial Call Opens Flood Gates in Loss
Brock Kappelmann - June 28, 2019 7:09 am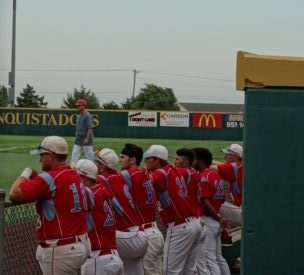 The umpire called it fair, the Bee Jays thought it was foul.  Rather than working a 1-2-3 inning in the bottom of the seventh, a controversial double down the left field line opened up the inning for Dodge City to score six and beat Liberal 8-1 Thursday night at Cavalier Field in Dodge City.
Riley Bost was strong most of the night on the mound.  He worked 6 and 2/3 innings striking out 10 and walking four.  Two of those walks and six of the runs came after the controversial call.  Rafferty Brown pitched 1 and 1/3 scoreless.
I was an inauspicious beginning for the Bee Jays in the top of the first as Jordan Williams, Connor Emmet, and Blake Dickman singled to lead off the inning.  But the next two BJ's struck out.  Shane Sirdashney walked with the bases loaded for the only BJ run.  Dodge City's first two runs came off home runs with the win blowing out up to 35 miles per hour.  Dodge City's Brett Graber homered in the third and Tyler Bruno homered in the sixth.  The bottom fell out in the sixth as the A's scored six runs on four hit, one error, and two walks.  The A's out hit the BJ's 9-6.  Liberal had the game's only error.  The season series with DC and Liberal is even at 2-2.
Liberal falls to 15-7 overall, 13-7 in the KCLB, and 5-3 in the Jayhawk Division.  The A's are 13-8 overall, 12-8 in the KCLB, and 2-6 in the Jayhawk Division.  Liberal begins a key series at Hays Friday night at 7 with the Dugout Show at 6:45 on 1270 and kscbnews.net.  Hays and Liberal are tied for first in the Jayhawk Division at 5-3.  The winner of the division gets a birth into Championship Week of the NBC World Series.