Bee Jays Run Rule Rock City at NBC
KSCB News - August 8, 2009 12:00 am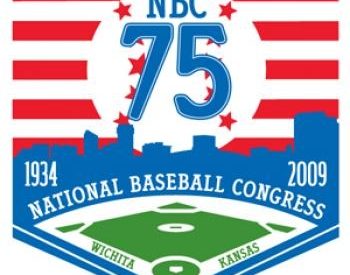 It took the Liberal Bee Jays just under two hours to complete the first run rule of the 75th Annual NBC Tournament with a 13-0 run rule victory over the Rock City (NC) Red Sox in five innings.
The Bee Jays scored five runs in the first inning. Mitch Caster and Tanner Rindels each had two RBI doubles.
Liberal also added seven runs in the fifth. Bryce Baugh had a two RBI single, while Justin Gordey had a three RBI double.
Gordey finished the game going 2-2 with four RBI's. Matt Hauser pitched in the victory giving up no runs and adding seven strikeouts. He is now 5-2 on the season.
The Bee Jays have now won 14 of their last 15 games, including a 2-0 record now at the NBC. They are 31-18 overall. They will play the Valley Center Diamond Dawgs on Sunday at 10 p.m. The start time could be delayed due to the games in front of it.
Friday's Scores:
Sedalia (MO) Bombers 10, Wichita (KS) Sluggers 8
Valley Center (KS) Diamond Dawgs 6, Chillicothe (MO) Mudcats 5
Gunnison (CA) Colts 13, Derby (KS) Twins 10
Conejo (CA) Oaks 8, Hays (KS) Larks 5
El Dorado (KS) Broncos 5, Southern California Bombers 2
Orange County (CA) Pioneers 11 Team Elite (KS) Kings 2
Saturday's Games:
Chilicothe (MO) Mudcats v. Crestwood (IL) Panthers 8:00 AM
Wichita (KS) Sluggers v. Clarinda (IA) A's 10:30 AM
Hays (KS) Larks v. San Diego (CA) Waves 1:00 PM
Derby (KS) Twins v. San Diego (CA) Force 5:00 PM
Anchorage (AK) Glacier Pilots v. Santa Barbara (CA) Foresters 7:30 PM
Seattle (WA) Studs v. San Diego (CA) Stars 10:00 PM
Rock City (NC) Red Sox v. Colorado Sox 12:30 AM
Southern California Bombers v. Game Time (LA) Rockies 3:00 AM
For more information visit www.nbcbaseball.com