Aviators Soar Over Bee Jays
KSCB News - July 12, 2015 8:58 am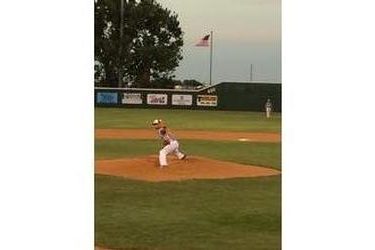 Liberal gave a lackluster performance in a 9-3 loss to the Haysville Aviators Saturday night at Brent Gould Field. The BJ's had a mind boggling six errors in the loss.
The Aviators scored two in the first as Dan Holst hit a two run home run to left. Hayvill scored two more in the second against starter Tyler Wiedenfeld. Liberal rallied for three in the second. A Brandon Rix bunt with two on turned into an Aviator error and scored a run. Nick Chapman followed that up with a two RBI single to make it 4-3. Haysville scored three in the fourth on two weak singles and three errors. Haysville added two against reliever Lee Busto in the eighth.
Wiedenfeld didn't get hit hard but allowed bloop hits and seeing eye singles. He went six innings striking out five with one walk. Four of the six BJ errors were at shortstop.
Liberal is 22-15 and 18-13 in the Jayhawk while Haysvile is 17-10 in the league. Liberal is 2-6 at home in July. The same two teams play Sunday night at 7 at Brent Gould Field. National Beef is the buyout sponsor and will cook free hamburgers and hot dogs and have many giveaways. The game airs with the Dugout Show at 6:45 on 1270 and kscbnews.net.
Scores
El Dorado 13 Bethany 0
El Dorado 4 Bethany 3
Hays 4 Wellington 2
Dodge City 7 Derby 3
Standings
North
El Dorado 21-9
Liberal 18-13
Hays 15-15
Dodge City 14-16
South
Haysville 17-10
Wellington 15-12
Derby 10-18
Bethany 5-22