A One Vehicle Accident Claims Life – VICTIM IDENTIFIED
KSCB News - October 31, 2009 12:00 am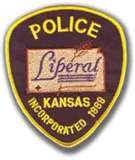 On October 31, 2009, at about 7:45 a.m., emergency personnel from the Liberal Police Department, Liberal Fire Department and Seward County Emergency Medical Services were dispatched to a one vehicle accident at the 1800 block of West Fifteenth.
Responding units located a white minivan that had apparently struck a culvert in the north ditch near the cemetery. According to reports the Omar Rodriguez, 44, of Liberal apparently first entered Willow Tree Golf Course in the vehicle, drove around the course, before exiting at a high rate of speed. There has been damage reported at the golf course and to the adjacent cemetery. Investigators are working to determine the cause of the collision.
Rodriguez was pronounced dead at the scene by personnel from the coronerź??s office. An autopsy will be completed to determine the cause of death. The investigation is ongoing.