Vehicle Fire at 703 S. Roosevelt Ave. in Liberal
Joe Denoyer - September 5, 2023 11:05 am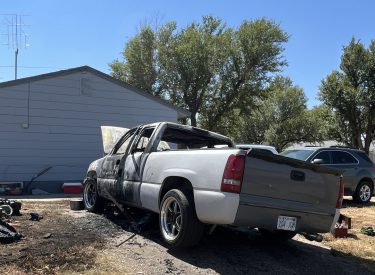 At 8:17 pm Friday, Liberal firefighters were dispatched to 703 S. Roosevelt Ave. for a report of a fully engulfed residence. However, on arrival firefighters found a fully engulfed pick-up truck in the driveway of the residence. The fire was threatening both a nearby vehicle and the home.
Firefighters were able to quickly knock down the bulk of the fire and it was declared under control at 8:30 pm.
The vehicle was a total loss and a nearby SUV suffered significant heat damage to the front end and driver side. The residence did not suffer any apparent damage from the fire. The owner of the vehicle advised that he had been working on the vehicle prior to the fire. The fire began in the engine compartment shortly after reconnecting the battery. The fire is considered accidental in nature and no injuries were reported.
Liberal Fire responded with six personnel, two engines & one chief officer vehicle. The Liberal Police Department also assisted at the scene.