Two Arrested In Hooker OK Burglary
Joe Denoyer - April 21, 2017 1:20 pm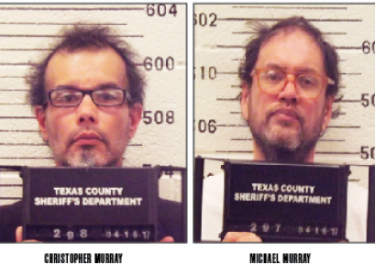 (GDH) Two men have been arrested in Hooker after a burglary on Sunday that caught a resident in the shower off guard.
According to an affidavit filed with the Texas County Courthouse, the Texas County Sheriff's Office received a call on a possible burglary in progress on Glaydas Street in Hooker at about 4:55 p.m. The call received came from a neighbor's home.
An officer made contact with the department to advise that two men had been stopped on the corner of E. Illinois Street and E. Panhandle Street, walking away from the scene of the alleged burglary. The pair were identified as Michael Lynn Murray and Christopher Murray, both of Tyrone.
Officers on scene spoke with the victim, who advised that he was in the shower when he heard banging on his door. The victim alleged that the men banging on his door claimed to be police officers. When he answered the door wrapped in a towel, three men who the victim informed officers he knew not to be police attempted to push him back into the home.
One of the subjects allegedly pulled a gun and placed it against the victim's head. After a struggle, the victim fled to a neighbor's home to contact the police.
The victim was shown photos of the two men stopped in the area, who he positively identified as two of the individuals who invaded his home. An officer found a BB replica gun on Christopher Murray, concealed at the small of his back. The affidavit notes the BB gun "looked just like a S&W 1911 semi auto handgun".
Both subjects were transported and booked in the Texas County Jail with an initial bail set at $10,000 each. Both men face charges of attempted robbery with a weapon, conspiracy to commit robbery with a weapon and possession of a firearm during the commission of a felony.
Bail has been raised to $100,000 each for both men. A status hearing is set for May 16.