Trojans Sneak Past Seward to End Softball Season
KSCB News - May 5, 2016 1:26 pm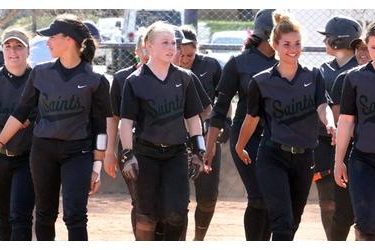 A disappointing season came to an end for the Seward County Lady Saints Wednesday night in El Dorado as Seward was shutout 2-0 by Colby in a Region VI Tournament elimination game to complete their season at 26-32.
After defeating Colby twice in Liberal just over a week ago, Seward had a chance to keep their roll against the Trojans going Wednesday afternoon in a win or go home situation at the Region VI Tournament. The Lady Saints had a chance to strike early against Colby in the top half of the 1st inning, loading the bases with just one out, but a pop out on the infield and a groundout ended the threat and left the bases loaded for Seward in their first at bats.
Seward wouldn't get their next hit until the 4th inning on a two out single from Megan Olsen, but thankfully for the gals in green, starting pitcher Jaidyn Mawhinney was up to the task in the circle, keeping the dangerous Colby lineup on their heels to that point as well as the game was scoreless through 3 ½.
A pair of Mawhinney walks in the Colby 4th spelled trouble for the Lady Saints as Colby needed just one hit to plate both runs, taking a 2-0 lead in the contest.
It remained a 2-0 game to the 6th when the Lady Saints put their leadoff hitter on on a single from Kristyna Garcia. A groundout followed by a double play quickly killed their chances at any offense in that inning, keeping the Lady Saints down by a pair after 5 ½.
Mawhinney kept Seward in the game, working a 1-2-3 bottom half of the 6th, giving the Lady Saints one last crack at the Trojans with their season on the line in the 7th.
For the second straight inning, a leadoff single got Seward going and a one out walk put the tying runs on base. A bunt moved the two runners into scoring position with two outs, but a fly ball to left landed softly in a Trojan glove, sealing the Lady Saints 2016 fate with a 2-0 loss.
There were just seven hits in the game, four for Seward and three for Colby. Garcia had one of the four hits for the Lady Saints and also walked twice in the loss. Mawhinney took the tough luck loss, allowing just three hits and two runs, but both of her walks in the contest came around to score, giving her an 11-13 record to end the season.
Seward wraps up 2016 with a 26-32 overall record, their worst mark since the 2002 campaign and also fails to win a game at the Region VI Tournament for the first time since '02.
SEWARD COUNTY/COLBY BOX SCORE<http://www.sewardsaints.com/sports/sball/2015-16/boxscores/20160504_7ck8.xml>
Roy Allen