Trio of Saints to Play for National Championship
Joe Denoyer - May 17, 2018 9:28 pm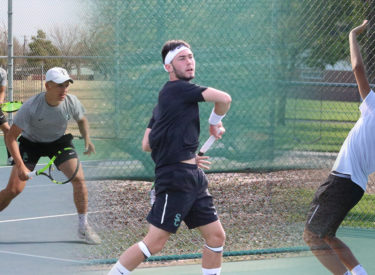 PLANO, Texas – For the second time in program history, the Seward Saints men's tennis program has players advancing to the championship match at the NJCAA National Tournament.  Duro Opacic, Hubo Lobo, and the doubles team of Benji Finet and Carlo Izurieta will all be playing for a National Championship in the final day of the NJCAA National Tournament.
Nick Rousset was the first to fall in the semifinals action, losing to Tin Chen of ASA Miami 6-0, 6-4.  With the loss, Roussett finishes his season in 3rd place in the No. 1 Singles draw.
The No. 5 Singles draw was the next to conclude, with Carlo Izurieta losing to ASA Miami's Kentaro Mizushima 6-2, 6-3.  Izurieta ended his season with a 3rdplace finish at the NJCAA National Tournament.
In the No. 6 Singles draw, Franck Soulerot fought to stay in the match, but Tyler's Karl Mosterd was too much, taking down Soulerot in consecutive sets 6-4, 6-3 to give Soulerot a 3rd place finish.
Duro Opacic put the Saints back on track, defeating Laredo's Manuel Pilotto in a back and forth contest.  After winning the first set 6-2, Pilotto came back to win set two 6-3.  Opacic rallied to for a shot at a National Championship in the No. 2 spot, winning set three 6-3.  He will play Tyler's Alex Parker in the finals.
Hugo Lobo joined Opacic for a shot at a championship in what was another back and forth battle.  After winning set one 6-3, ASA Miami's Martin Mendoza took set two 6-1 before Lobo cruised to a 6-3 set three win to advance to the title match.  Lobo will take on Tyler's Luke Simkiss for the No. 3 Singles championship.
Tim Lamare was the final Saint to finish his singles match, falling in a tight match to Andres Cabezas of ASA Miami in the No. 4 singles draw.  After dropping the first set 6-4, Lamare rallied to take set two 6-4, but couldn't complete the rally as Cabezas took the final set 6-4.  Lamare become the fourth Saint to finish in 3rd place at the tournament.
In doubles play, Lobo and Rousset fell to Tyler's Alex Parker and Marcus Walters in the semifinals of the No. 1 Doubles draw 6-3, 6-2. The team finishes their season in third place.
In the No. 3 doubles draw, Benji Finet and Carlo Izurieta advanced to the National Championship with a 7-6 (4), 6-4 win over Cowley's Killian Dagneaux and Casey Edwards.  They will be pitted against Drew Brown and Karl Mosterd of Tyler in the title match.