Top 10 Sports Stories of 2012
KSCB News - December 26, 2012 3:18 pm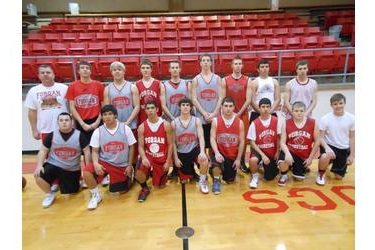 1. Forgan a Repeat Offender- Forgan's boys basketball team won a second consecutive class B state championship. The Bulldogs went 29-1. Forgan beat Arnett 73-39 on March 2. The Radcliff brothers lead Forgan. Rhett Radcliff averages 16 points, six rebounds, and six assists per game. Ryan Radcliff averages 16 points and six rebounds per game. Senior Tanner Jones (9 p 5 r), junior Jake Regier (10 p, 4r, and 4 assists), and sophomore Trevin Lopez (8 p 4 r) round out the starting lineup. Sophomore Jace Kerr (6 p 4r), freshman Chandler Bryer (6 p 3r), and junior Dalton Lemieux (4p) give help off the bench.
2. Meade Continues Football Mastery- This was fun for us in part because all of Meade's playoff games and two regular season games aired on 102.7 or B107.5. The Meade Buffaloes win the 2A state championship for the second time in three years 28-25 over Centralia November 4 at Lewis Field in Hays. Meade trailed this see-saw affair 13-7 at halftime. Then Chris Hardaway found Jett Little for a 23 yard touchdown pass with 36 seconds remaining. Mark Finster intercepted a pass to seal the school's fourth state title. It is Meade's fourth state football title after winning state in 1972, 1980, 2010, and 2012. Hardaway also won 102.7's Billy's 10 Best Scholarship.
3. Liberal Soccer Soars to Championship Game- After a 2-6 season in the Western Athletic Conference, the Liberal High School soccer team marched all the way to the 5A state soccer championship game where they lost 3-1 November 3 to Bishop Miege. The Redskins beat Kansas City Harmon 1-0 in the semifinals in Topeka. After two regular season losses, Liberal beat Great Bend 1-0 in the quarterfinals at Great Bend. Liberal shocked Salina Central 2-1 in overtime at Salina Stadium. Even their first round game came against a Hays team who swept the regular season series, but the Skins won 2-0 at Redskin Field. Liberal has been to the final four in 10 of the past 11 years and finished the season 11-9-1.
4. Saints Feel Free to be Number 3- The Seward basketball team won the Jayhawk West, Region 6, and finished 3rd in the country for the second time in five years under coach Bryan Zollinger. Seward beat Cowley 62-48 March 13 to win Region 6. The Saints advanced to Hutchinson where they defeated Wallace State, Alabama and Columbia State, Tennessee before losing in the semifinals to Northwest Florida State. Seward beat Eastern Oklahoma State 77-62 March 24 to finish 3rd at the NJCAA Tournament in Hutchinson. The Saints also went 12-4 in the Jayhawk West to win the conference for the second consecutive year for the first time in school history. Nebraska signee Deverell Biggs was the Region 6 player of the year and Southern Mississippi signee Daveon Boardingham was also all Region 6 first team.
5. Bee Jays Commemorate Carlile- Longtime Liberal Bee Jay supporter and acting BJ general manager Bob Carlile passed away January 6. A portion of his funeral was held on a sunny but cold day at Brent Gould Field. Carlile put in countless hours to the Liberal Bee Jays including the 2012 team. The Bee Jays wore a "BC" patch on their uniforms and Carlile appeared on the cover of the BJ program. The team decided to retire the number 34 after Carlile hosted 34 Bee Jays in his home during the course of 40 years. Bob's son Mike will be the team's general manager. The BJ's were 30-17 this summer.
6. A Heavenly Hall of Fame- SCCC/ATS introduced their first Seward Athletic Hall of Fame class April 20. Former Lady Saint coach Jim Littell, current baseball coach and athletic director Galen McSpadden, former Lady Saint baskeball player and coach Kim Ortega, and former baseball player Cory Patton all gave speeches after being inducted into the hall of fame. The 2002 Lady Saint team was inducted into the hall of fame as a team.
7. Forgan Plays Football Too- Forgan made it to the state championship football game for the first time since 2002. Tipton beat the Bulldogs December 1 after and early injury to all state quarterback Dalton Lemieux 30-12 in a game Forgan led 12-6 at halftime. Forgan finished 12-1 and dominated their district. They beat recent nemesis Deer Creek-Lamont 24-20 in the semifinals. Billy Nichols, who also coached the 2002 team to the title game, returned to coach the Bulldogs who were 6-5 the season before. Forgan continues a recent trend of outstanding football having advanced the the semifinals in three of the past four seasons.
8. Meade Makes it All the Way- The Meade boys and girls basketball teams both made the state tournament in 2A at Manhattan. The Meade boys were 25-1 and only lost to Sterling in the state championship game March 10. The Buffs beat Madison/Hamilton 71-50 in the semifinals and El Saline 51-28. Meade topped Syracuse 76-64 in the sub state championship one year after an 18-4 season. The Buffaloes had two seniors Adrian Pfanenstiel and Gunner Cordes. Cordes averaged a team leading 15 points and four assists per game. The Buffs had size with 6'8" junior Randy Friesen averaging 15 points and 12 rebounds per game. Morgan Davis was a 6'4" sophomore scoring 14 points and grabbing seven rebounds per night. Sophomore guard Jett Little scored about nine points per game. Juniors Chris Hardaway, Trevin Wiens, and Mark Fenster were key Buffaloes.
9. Liberal Makes Improbable Run to State- The Liberal High School basketball team advanced to the state tournament. On the surface, that really isn't a huge story considering the Redskins have been to three of the past five state tournaments. But this was unlike any of the school's other state tournament teams. Liberal began the season 3-11 before winning seven of their last eight to make state. Liberal beat Salina Central 58-53 in overtime in Newton March 2. DeVondre Livingston led the 10-13 Redskins with 16 points and seven rebounds per game. Osvaldo Villareal scored nine a game for a team which began their winning ways with a three overtime win at home over Great Bend.
10. Redskins Show Guts to Regional Glory- Liberal second year head cross country coach Tyson McGuire says his regional champion cross country team gave what he called "absolutely the gutsiest performance I've ever seen for an entire team." Junior Angel Viveros won the meet Saturday at Great Bend in 16:37 breaking his best time by 27 seconds. Senior Daniel Frazier overcame the flu for fifth. Junior Sammy Obando took sixth. Sophomore Luis Medina took 16th despite running the race with one shoe. Freshman Emilio Tovilla had missed the past two meets with a pulled muscle in his rib cage but placed 29th. Senior Marco Espinoza (31st) and junior Erving Altamirano (43rd) rounded out the scoring. This is Altamirano's first year in cross country after playing football last year. The Redskins competed without injured Obed Quintana who was one of their top runners this season. Liberal placed fifth at the state meet.