Texas Co. Sheriff Investigates Dog Shootings In Hooker
KSCB News - December 18, 2012 3:27 pm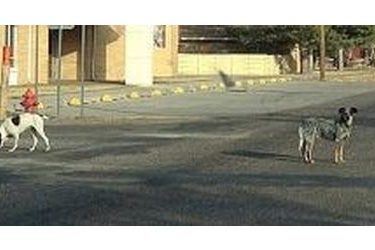 Texas County Sheriff Rick Caddell has opened an investigation after an incident took place in Hooker on Dec. 7 where two stray dogs on the Blackmer Municipal Golf Course were shot by the City Superintendent, Forest Osborn.
Caddell had no comment Thursday since the investigation is on-going.
In a report , Osborn said he received a phone call from Acting Chief of Police Buddy Holbert in reference to the two dogs which he states had been at-large for months in the golf course area. After a complaint call from a citizen in the area that the dogs had caused damage to private property, Chief Holbert and several others had unsuccessfully attempted to catch the dogs.
In the report, Osborn said he and two of his employees attempted to catch and tranquilize the dogs, but to no avail, so he determined that the only way to get the dogs was to dispose of them.
In the report, he said the chief of police never ordered him to make that decision. He said the dogs had been at-large for months and several attempts had been made by private citizens to catch the animals.
The report is closed by saying that the incident was in compliance with Hooker City Ordinance Section 90.56 (A) which states:
"The pound officer, a police officer, or such other officer or employee of the city as the Mayor of the city may authorize, shall take into custody and impound any animal running at large in violation of any provision of the ordinances of the city, may enter upon the premises of the owner or other private premises to take such animal into custody, and, if with reasonable effort a dog or cat illegally at large cannot be caught, may kill it, either on or off private premises."
The dogs were reportedly well-known by many citizens, and were fed and cared for by many as well. One was reported at large in the spring, and one in the summer.