Team Liberal Recreation Center Wins the Tournament of Champions
Joe Denoyer - October 3, 2020 9:59 pm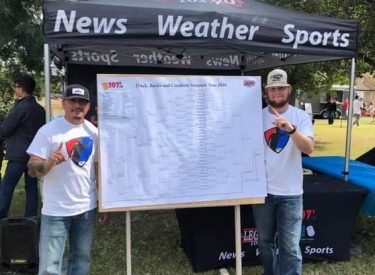 KSCB and The Legend along with several participating businesses held Cornhole Tournaments all summer long. The Truck, Bucks, and Cornhole Tour kicked off in June at the Yellow Brick Car Show and wrapped up September 30th at Ghumms Auto Center. The winners of each tournament received $100 and the right to compete in the Grand Finale "Tournament of Champions" at the Festival at the Baker on Saturday. The teams were not only competing for the title, Champion of the Champions, but also for a $1000 prize.
While the day started off cool, the competition proved to be hot, as the 32 teams battled it out in the double elimination tournament. When the smoke cleared, and the dust settles, it was the team of Braden and Juan representing the Liberal Recreation Center that took home the top honors, and the $1000 prize.
Also throughout the events, followers of the tournaments had the chance to win a 2020 Dodge Ram 1500 from Ghumm's Auto Center by entering the first 6 numbers from the serial number of a $1 bill into an iPad to see if they could match the preset number in the computer. While no one matched the number and  won the truck, most individuals donated the dollar bills to the local food pantries of the community where the tournament was being held.
The event proved to be very successful for the businesses involved, the players, the food pantries, and of course KSCB and The Legend, who says a very huge thank you to everyone who participated.