Southwest Medical Center welcomes surgeon, Dr. Anthony Galitsky, to Liberal
Joe Denoyer - February 10, 2020 8:48 am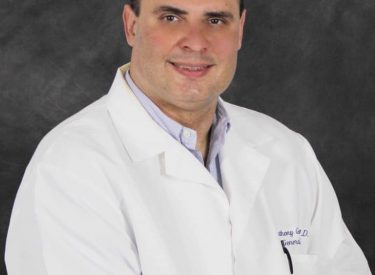 Southwest Medical Center is proud to announce the arrival of general surgeon, Anthony Galitsky, M.D., to the Liberal community. Dr. Galitsky joined Southwest Medical Center's surgical team this February as part of the General Surgery Care Center.
Dr. Galitsky was born and raised in Ukraine. He says from a young age, he knew he wanted to become a doctor. "I always had a desire to help people. My grandma was a nurse and made a difference in many people's lives in her community. I wanted to continue the family tradition."
Dr. Galitsky earned his medical degree from Lviv National Medical University located in Ukraine. In 2004, he arrived in the United States to complete a residency in general surgery at North Oakland Medical Center Hospital in Pontiac, Michigan. In 2006, he transferred to the New York General Surgery Program at Westchester Medical Center where he completed his residency.
The following year, Dr. Galitsky completed his first fellowship specializing in liver and pancreas surgery at Yale University, then in 2011 completed his second fellowship in minimally invasive and bariatric surgery at Lahey Clinic in Boston.
Dr. Galitsky has practiced medicine for more than 10 years working in private practices, and as a locum tenens general surgeon. Most recently, he practiced in Scottsdale, Arizona. When considering where to relocate his practice, Dr. Galitsky said his visit to Liberal and the individuals he met impacted his decision to choose Southwest Medical Center.
"It was the perfect package. I think it's a good place to practice medicine. They have great relationships with the doctors, nurses, and administration. The community has very appreciative people."
Dr. Galitsky is board certified with the American Board of Surgery. He says providing excellent outcomes and education for each patient are important components of his care philosophy.
"I want to provide good general surgery care for my community. I want to give my patients good treatment and education on the prevention of diseases. It's very important to me that my patients understand their care process and that they are satisfied with the care they receive."
Dr. Anthony Galitsky is now seeing patients at the General Surgery Care Center, alongside general surgeons Dr. Jose Maeda and Dr. Nchang Azefor. The practice is located at 305 W. 15th Street, Suite 204 inside the Medical Office Building at Southwest Medical Center. Dr. Galitsky is accepting new patients and most major insurances, including Blue Cross/Blue Shield, Medicare, and Kansas and Oklahoma Medicaid. For questions about services performed by Dr. Galitsky, please call (620) 624-4946 or visit www.swmccare.com