Smoke Alarm and 6-Year Old Saves Lives From House Fire
KSCB News - February 4, 2015 11:28 am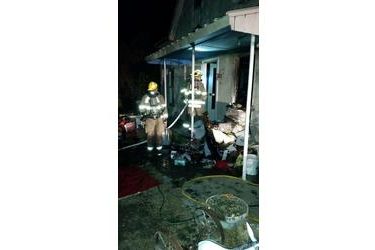 A smoke alarm and a 6-year old staying with his grandmother for the night are credited for saving lives Fire Department officials said as a result of an early morning fire in Guymon.
The Guymon Fire Department responded to a 911 call of a house fire at 2103 N. East Street. As Fire units arrived they saw smoke and flames coming from windows of the house. "Heavy fire conditions in the front living room of the home were quickly contained by first arriving Firefighters", said Assistant Fire Chief Grant Wadley. Occupants of the home were out of the house upon Firefighters arrival and were treated by Paramedics at the scene for minor burns and smoke inhalation.
Home at the time was JoAnn Costner who had her 6-year old grandson Josh Born staying with her last night. According to Fire Investigators, the fire started in the living room from a heating source. Smoke alarms, that the Fire Department had installed in the home in the years past, began to sound and woke the 6-year old up from sleep. Josh immediately found his grandmother and knew they both needed to get out of the house as the home started to fill with deadly smoke. Once out of the house, he then ran next door to another family member's home and they called 911. The only remaining family member in the home was the family dog which was rescued during a search of the home by Firefighters. The dog was also treated at the scene by Paramedics trained in pet emergencies such as this.
"I could not be more proud of the work done this morning by our Firefighters, but the real story is that smoke alarms do save lives. Had this smoke alarm not have been placed in the home and functional it would have been a far worse scenario. This is the reason we have an active smoke alarm program here in Guymon", said Fire Chief Dean McFadden.
Fire only damaged one room of the home while smoke damaged the rest of the home. Fast actions by Guymon Firefighters prevented the fire from spreading to the rest of the home. Estimated cost of damages were not available at this time. Firefighters remained on the scene for over an hour assuring the fire was completely extinguished and the occupants were taken care of. Guymon Firefighters were also assisted by the Guymon Police Department, City of Guymon Utilities Department, and Tri-County Electric.