Seward Rallies Past Colby in KJCCC Opener
Brock Kappelmann - August 25, 2022 6:42 am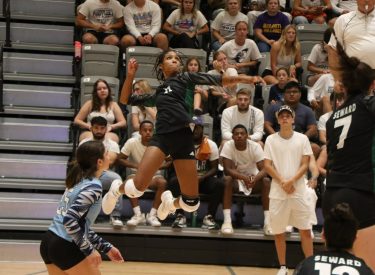 Kenny Hernandez
COLBY, Kan. – In their conference opener, the Lady Saints defeated Colby Community College on the road in a five-set thriller. No. 17 Seward County battled after they fell 30-28 in the first set to even with a 25-10 second set win. The Lady Saints fell 26-24 in the third set and won the fourth set 25-12 before they won the fifth and final set 15-12. Seward County is now 1-1 on the season and 1-0 in conference action. This weekend the Lady Saints will travel to Cisco/ Wrangler invitations in Texas with four matches starting on Friday.
The Colby student body showed up early and loud for their first home match and conference opener. With the energy in the building, the Lady Saints found themselves tied at 12, all with the Trojans in the first set. Seward County led 20-18 over Colby late in the set, but the Trojans came back to tie it at 24 all. In extra points to open the match, Colby took the set 30-28, and Seward county again found themselves down 1-0 in the second straight match.
Seward county looked to even up the match in the second set and opened up with another early lead, 5-2 over Colby. After trading off point, the Lady Saints fell behind 15-14 later in the set but responded with a 6-0 run to lead 20-15. This run separated Seward County enough to win the second set 25-20 and even up the match at a set a piece.
With the match split at a set a piece, the Lady Saints looked to take a set lead for the first time and led the Trojans 10-8 in the third set. Both teams kept the energy high and traded points as Colby led 19-18 late in the set. Tied at 23, all the Lady Saints could not get back in front as the Trojans won the third set 26-24 and led the match 2-1.
The fourth set was all Seward County as they jumped out to an early 13-6 lead over Colby. Logan dodge and Sarah Cruz provided top serving as the Lady Saints dominated the Trojans to win the fourth set 25-12. With the victory, the Lady Saints forced a fifth set for the first time this season and had the momentum.
That momentum carried over to the final set as Seward county went ahead 6-3 to force a Trojans timeout. The Lady Saints kept their foot on the gas peddle to win the final set 15-10 to pick up the road victory 3-2.
Seward County improves to 1-1 on the year and 1-0 in conference play to start the season. The Lady Saints will be on the road this weekend at the Cisco/ Wrangler tournament in Texas starting on Friday at noon against Cisco.