Seward Drops Opening Baseball Games
Brock Kappelmann - February 8, 2020 7:37 am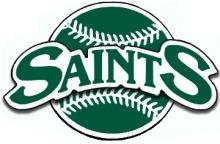 Kenny Hernandez
WEATHERFORD, Tex.- Seward County Community College baseball team falls in season debut to Galveston College 3-0 and to Weatherford College 3-1, now with an overall record of 0-2. In both games, the Saints allowed 6 runs on 9 total hits but also had eight errors that allowed three of those runs to score.
In the first game of the doubleheader, the Saints had the right-hander Sam Berberich on the mound and he pitched the first six innings. Berberich gave up one run on three hits and had three strikeouts but picked up the loss in the game with the Saints unable to score. Seward's defensive errors allowed the Whitecaps all three runs in the game. In the top of the 7th inning, the Saints had an error in the outfield that scored two more runs that gave Galveston the final run support they needed. Saints had just two players record hits in the game with KP Werner went 2-3 from the plate and Wyatt Grant had a perfect 2-2 for all four hits for the Saints.
Whitecaps Jaycobb Deese recorded the win on the mound as he went 6 innings with four hits, five strikeouts and zero runs allowed.
The second game of the day the Saints started off the top of the first Kase Johnson connected with a line drive up the middle to get on base. With just one out Johnson advanced to second and to third on a fielder's choice. With two outs Werner connected on a line drive to left field to score the Saints first run of the season. Unfortunately, Seward went on to only have five total hits but all spread out in different innings. Seward's starter in game two was freshman Joseph Wolf who had five innings pitched with one earned run, two hits, and six strikeouts. Corey Didier came in for relief and pitched the final three innings and had one earned run, one hit, and picked up the loss in the game.
Weatherford had five different pitchers on the mound but John Breaux picked up the win with three innings pitched, zero runs allowed, one hit and four strikeouts.
The Saints will be back in the action tomorrow against Galveston College at 3 PM followed by Weatherford College at 7 PM.