Second Inning Burst Buoys Liberal
KSCB News - June 25, 2011 10:05 pm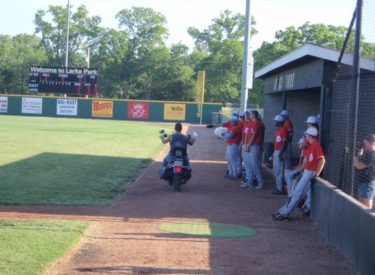 The Liberal Bee Jays scored six second inning runs in route to a 9-3 win over the Hays Larks at Larks Park in Hays Saturday night in front of a big crowd. Liberal claims the win in a game they led 7-0 going to the bottom of the fifth after the BJ's won two one run games (4-3 and 7-6) June 14 and 15 in Liberal.
Nicholls State lefty Patrick Shreve improves to 3-1 after going six innings and allowing three runs in the win. Hawaii's Brent Harrison pitched two scoreless innings and Wichita State's Cale Elam worked a 1-2-3 ninth.
Hays pitched Kirk Jewasko walked the first three men he faced in the second. Texas-Arlington's Greg McCall singled to drive home the first run and another run scored on an error. Kansas State's Ross Kivett doubled home two. Wichita State's Micah Green doubled home Kivett.
San Diego's Reyn Nagamine hit a line drive homer over the right field wall for his third of the season to make it 7-0 in the fifth. The Larks plated three in the bottom of the inning but two out singles by Nagamine and Seward's Jake Barrios made it 9-3 in the sixth.
Ross Kivett and Jake Barrios had three hits a piece in the win.
Liberal passes Hays and Derby in the Jayhawk League Standings after El Dorado beat Derby 2-1 in El Dorado.
The Bee Jays are 15-5 overall and 8-5 in the Jayhawk while the Larks fall to 13-6 overall and 7-5 in the Jayhawk. Hays is 10-2 at Larks Park.
The same two teams meet Sunday night at 7 p.m. on Talkradio 1270 and kscbnews.net.