Residential Structure Fire – 2520 Mustang Dr. in Liberal
KSCB News - June 25, 2018 4:20 pm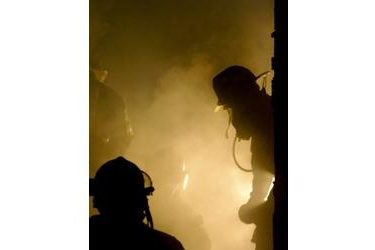 At approximately 11:15 pm Sunday a Liberal resident called directly to the fire department to report that his home had been struck by lightning and that his family could see and smell smoke.  Due to a strong language barrier, the original address was incorrectly reported as 2500 N. Western.  As firefighters went en-route they also received an emergency dispatch to that same area for a possible structure fire reported by a third party.  Due to an ongoing intense thunderstorm, rain and dense smoke from the fire were blanketing the area making it difficult to identify which home was actually burning.  It was finally located at 2520 Mustang Drive and first engine on scene at 11:21 pm reported heavy fire venting from the East peak of a double-wide manufactured home.  Response by the second due engine was delayed as that unit was committed at the scene of a previous call for a broken power pole and damaged electric transmission lines on E. Pine Street.  The third engine was committed at the airport for an inbound commercial flight.  Firefighters battled not only the fire, but also heavy rain, high wind and frequent lightning strikes in the area.
A hose line was quickly put into operation to darken down the attic fire and an interior crew made entry to begin pulling ceiling to access the fire from below.  After only a few moments, the fire vented through the roof at the mid-point of the home and the roof began collapsing into the home.  Crews backed out of the structure and transitioned to a defensive attack in an attempt to control the fire.  Once control was regained crews re-entered the home to extinguish the fire and begin overhaul operations.  The fire was declared to be out at 1:16 am.  The home and its contents are thought to be a total loss due to the extent of the fire and water damage.  Firefighters remained on-scene until 2:42 am locating and extinguishing fire in the collapsed attic area.  The structure was very unstable due to fire damage.  That fact combined with the wind and stormy weather made the task much more difficult than normal.
The home was occupied by the family at the time of the lightning strike and fire.  Fortunately, all those inside were able to escape unharmed.  Representatives of the American Red Cross were called to provide assistance to the family.  No injuries to occupants or responding personnel were reported.
Liberal Fire responded with a total of 15 personnel and three engines.  Also assisting at the scene were the Liberal Police Department, Seward County EMS, Southern Pioneer Electric, Black Hills Energy and American Red Cross.