Poetry Contest Winners Announced
KSCB News - April 27, 2012 12:12 pm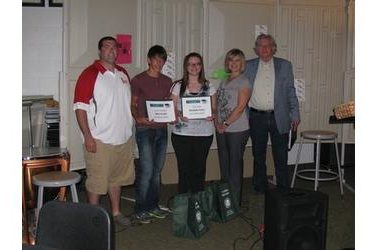 Liberal, Kans.—Sublette students swept a high school poetry contest hosted by Seward County Community College/Area Technical School, winning first, second, and third places. The winners, along with SCCC/ATS students and faulty, read their poems Thursday evening at the Poetry Coffee House at SCCC/ATS.
First place went to Lester Withers, a Sublette High School junior, for his sonnet. He was awarded a $100 SCCC/ATS scholarship, a $25 Spencer Browne's gift card, $25 cash, "The Poet" Magnetic Poetry set, and other prizes.
Second prize went to Erin Linn, Sublette High School senior, for "Meet Me on the Moon." Linn received a $100 SCCC/ATS scholarship, a $10 Spencer Browne's gift card, $15 cash, "The Poet" Magnetic Poetry set, and other prizes.
Winning third for her poem "Sunset," was Sublette senior Vanessa Berg, who received a $5 Spencer Browne's gift card, $15 cash, "The Poet" Magnetic Poetry set, and other prizes.
The Coffee House also showcased ten SCCC/ATS students reading their original or favorite poetry, along with SCCC/ATS English instructors Bill McGlothing and Janice Northerns. Bill McGlothing pronounced the event a success.
"We had a fine mix of poems, readers, and listeners," he said. "It was an exceptional evening. I hope everyone who was there enjoyed it as much as I did."
Readers from SCCC/ATS included Chris Bobeda, Heidy Molina, Kirsten Morris, Celestina Padilla, R. E. Longoria, Ananda Coleman, Raul Lemus, Liberty Brown, Maverick Elam, and Hope LaFreniere. Bobeda also entertained the crowd with original songs, accompanying himself on acoustic guitar.
The evening also featured a crowd-sourced poem. Northerns invited audience members to jot down the most recent activity they had put off doing and incorporated some of those into her poem, "Crowd-Sourced Pain." All who participated had their names entered in a drawing for a signed copy of B. H. Fairchild's most recent poetry book, which was won by Heidy Molina.
This was the third year for the Poetry Coffee House, and organizers plan to continue it.
"April is National Poetry Month, and hosting a Coffee House is a great way to allow folks to enjoy listening to some of our local poets," Northerns said.
Poems by several of the SCCC/ATS students who read at Thursday's Coffee House will appear in the upcoming edition of Telolith , the school's award-winning creative writing/art journal. The new issue will be out in early May, and a reception is planned for 12:30 p.m. May 11 in the lobby of the Shank Humanities Building at SCCC/ATS to celebrate its release and honor the contributors. The public in invited.