No Substitute for a Win for Lady Skins
KSCB News - February 8, 2012 7:20 am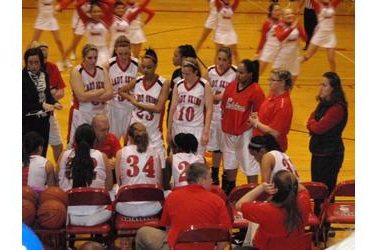 At times this season the Liberal Lady Redskins have played primarily their seniors. At times they tried to go young. A game or two they tried to get by with using just seven players. First year head coach Bill Baird has pushed most of the buttons to try to find the answer for this year's team. Tuesday night he tried something else. Baird employed five in and five out almost all game. He used 12 players pretty consistently and Liberal won 39-33 over Guymon in the Big House. It's Liberal's third win of the season and earns them a season sweep against the Lady Tigers. LHS has won nine straight in the series.
Guymon jumped out to a 9-2 lead and led 12-7 after one quarter. Liberal took their first lead with six seconds remaining in the first half and led at halftime 17-16. LHS led 26-23 after three.
Jai Chapman scored 12 to lead the 3-13 Lady Redskins while Ashleyn Wadley dropped in 13 for 6-14 Guymon. Destinee Belden scored 10.
LHS hosts #8 10-4 first place Hays Friday night at 6 p.m. on Talkradio 1270 and kscbnews.net. The Lady Skins will be featured during the Thursday night Rowdy Crowd at 5:30 at Billy's on Talkradio 1270 and kscbnews.net.