MLB s Kelby Tomlinson trades uniform for apron to race on Pancake Day
KSCB News - February 4, 2016 8:08 am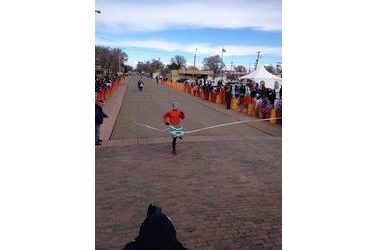 Liberal, Kans.—It's a pretty safe bet that only one Major League baseball player's resume includes a Pancake Day race. And that player is Kelby Tomlinson of the San Francisco Giants.
Tomlinson, who signed with the Giants in 2011, was called up to the Major Leagues last August and garnered lots of attention his first season with two home runs, 20 RBIs, and a batting average of .303.
The 25-year-old second baseman is originally from Chickasha, Okla. but these days he spends the off season in Liberal, Kans., after marrying local girl Tiffany Prater in October 2012.
Tomlinson entered the Pancake Day Men's Pacer Race in Liberal last year and won, and he'll try his luck again on Feb. 9.
Wife Tiffany loves having her husband learn more about her hometown traditions.
"We consider this home—we just bought a house here," Tiffany said. "It's extra special for me for Kelby to experience the things I grew up with."
For those unfamiliar with the Pancake Day Races in Liberal, the men's race is secondary to the main event, the International Pancake Race between the women of Liberal, Kansas, and Olney, England. This year will mark the 67th match-up between the two towns.
Because the International Race is the focus of Pancake Day, times are not recorded in the Men's Pacer Race, but Tomlinson finished the 415-yard sprint last year well ahead of his competitors.
He said the win didn't surprise him all that much.
"I'm in pretty good shape. I have to stay in shape because of my job," Tomlinson said.
However, he isn't sure he'll be able to repeat his first-place finish this year.
"I know that Tyson McGuire, the cross country coach, is in the race and he's pretty fast," Tomlinson said. "I think there may be a couple of others who will give me some competition, too."
McGuire, who placed second in 2012, 13, and 14, was slated to compete last year, but scratched at the last minute due to illness.
Tomlinson said he hasn't been doing anything special to train for the race.
That may be true, if you consider taking part in a three-week baseball training camp right before the race as "nothing special." Tomlinson was in the midst of the Giants' training camp in Scottsdale, Arizona, when he gave the interview for this story on Saturday evening, Jan. 29. In fact, just that day, he'd hiked up a mountain.
"I'm pretty tired right now," he admitted. "But we don't do this [mountain climbing]" every day. This was a special thing."
Tomlinson usually does one off-season camp per year, he said. The rest of the time he trains and works out at the baseball facility at Seward County Community College in Liberal, his alma mater, which is another reason he chose to live in Liberal.
"It's partly because my wife is from here—her family is here. But, also, my hometown doesn't have any place where I can train, and Galen [McSpadden, SCCC head baseball coach,] is gracious enough to let me use the college's facilities to work out when I'm at home."
Tomlinson's performance as a rookie got lots of media coverage, and his first home-run as a Giant, a grand slam on Aug. 27, was a highlight of the season for him.
"It was a lot of fun, especially to do it at home with my wife there. She got to experience it with me," Tomlinson said.
Still riding high on his attention-getting first season as a Major Leaguer, the young player admits that at times it all feels a bit surreal.
"It is sometimes kind of weird—there are a lot of people—that you don't know—who know you," Tomlinson said.
Tiffany agreed.
"All of the media attention was absolutely unexpected," she said. "I knew it would be intense, but I was used to going to minor league games and just sitting in the stands minding my own business. In San Francisco, people would come up to us on the street and recognize Kelby. It was bizarre."
While the experience has been strange and wonderful, Tomlinson also feels that he's paid his dues.
"I feel very fortunate. All the work I've been putting in the past few years finally paid off," he said.
The years of hard work were many for Tomlinson, a high school baseball stand-out who went on to make a name for himself at Seward County and Texas Tech. After a solid season as a Seward freshman in 2009, " Tomlinson turned himself into a star in 2010 for the Saints, earning NJCAA All-American honors as he hit .352 with 13 doubles, six triples, and six home runs while stealing 28 bases," according to Roy Allen, SCCC sports information director.
Tomlinson then signed with Texas Tech, where he earned "the Big 12 Conference's first ever ABCA Rawlings Gold Glove Award while also hitting .307 and swiping 21 bags" as a junior, according to Allen.
After the Giants drafted him in 2011, Tomlinson played for several minor league teams before finally getting the call he'd been waiting for.
Though he played second baseman last season, Tomlinson is also training as an outfielder. He isn't sure what the future holds for him, but the training will make him more versatile, he said.
Tuesday's Pancake Race in Liberal may seem a far cry from hitting a grand slam for a crowd of thousands, but Tomlinson's fans will be there cheering him on, including his number one fan, his wife, Tiffany.
The Pancake Day Men's Pacer Race is slated for 11:40 a.m. Tuesday, just before before the International Race. The Men's race got its start as a way to help out the ladies in the International Race. In the1950s, the Jaycees were in charge of Pancake Day, and the men enlisted their wives to run in the International Race (sometimes without asking). The Men's Race featured the Jaycees sprinting to the finish line, carrying their wives' coats so they would be waiting for the women at the end of the race. At some point that tradition ended. The Men's Pacer Race is now open to any male 18 or older, and the men not only skip the coat-carrying; they also do not have to carry a skillet or flip pancakes like the female racers.
They do have to wear aprons and headscarves. Last year, Tomlinson wore an apron belonging to his mother-in-law that Tiffany grabbed for him at the last minute. He said he doesn't have a clue about the apron he'll wear this year, adding, "My wife's in charge of that."