Middle School Results
Brock Kappelmann - November 10, 2023 1:14 pm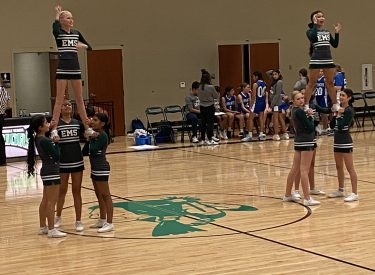 Nancy Hines
Thursday night 8th Lady Warriors faced off against Dodge City Comanche in Liberal. B team started off the night with a dominating defense and an aggressive offense. Leading in scoring was Jyzelle Juarez with 13 pts, Yuridia Gonzales with 12 pts, Cambree Tran and Valeria Gandara with 4 pts each, and MarryAna Peregrino, Savannah Olvera, and Rebecca McLane with 2 pts each. Continuing with dominating defense was the A team. With an aggressive full court press, A team dominated and controlled the game right out of the gate. Leading in scoring was Devaney Carter with 15 pts, Jeslynn Heredia with 8 pts, Haiden Lyon, Scarlett Carr, and Maliyah Mullens with 6 pts each, and Brooklyn Short, Miah Janko with 4 pts each. Teamwork was amazing ladies! Way to go!
Final scores
B team 39-3 W
A team 49-10 W
Coach Sniff
The 8th grade Lady Apache A team played Garden City Kenneth Henderson last night. The Apaches started off a little slow but we soon got our offense rolling. They played solid defense all night holding Kenneth Henderson to only 11 points, 10 of those coming in the first half. The scoring was spread pretty well through the Apaches but they were led in scoring by Evelyn Sandoval with 11 and Viviana Favila with 10. It was a solid team effort that ended with the Apaches winning 39 to 11. We will look to carry this momentum into this Saturday when we travel to play Great Bend and Hays.
From Coach Kadow –
7 th Grade Lady Apaches Game Report
The 7 th Grade Lady Apaches A team played Garden City
Kenneth Henderson on Thursday.
In the first quarter Kenneth Henderson had 2 points and
SRMS Lady Apaches scored 6. At Halftime Kenneth
Henderson had 2 points, SRMS Lady Apaches scored 8
more points giving them 14 points. The third quarter ended
with the Lady Apaches 22 and Kenneth Henderson 6 points.
In the 4 th period The Lady Apaches 9 more points giving
them 31, Kenneth Henderson added 3 more points giving
them a total of 9 points. Final score Lady Apaches 31,
Kenneth Henderson 9.
Individual Scoring
Janelle Aquino 8 pts., Avril Maldanado 7 pts.,
Brianna Mendoza 16 pts.
Wrestling
From Coach Torres –
Thursday we traveled to Cimarron for duals with Scott City and Cimarron. Our first dual versus Scott City most everyone had at least one match. Goal for yesterday's duals  was getting everyone mat time. I was pleased with the dual against Cimarron, we were very competitive. Most everyone had matches, wrestled better and with  confidence. I feel like we keep making improvements at every meet.