Meade State Lake Among Toxic Kansas Lakes
KSCB News - August 1, 2010 12:00 am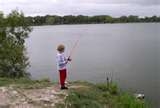 State health officials are warning residents to avoid three Kansas lakes due to toxic algae blooms.
The warnings are for Lowell Reservoir in Jewell County, Centralia City Lake in Nemaha County and Meade State Lake in Meade County.
The blue-green algae blooms release toxins and produce and unpleasant smell.
Health officials say people and pets should not come into contact with the water at those three sites.