Liberal Volleyball Spikes Scott City on Senior Night
Brock Kappelmann - September 23, 2020 6:49 am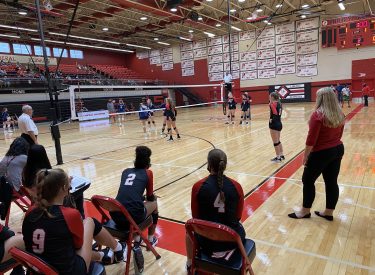 Liberal's volleyball team celebrated their seniors with a 3-1 win over Scott City in the Big House Tuesday night.  Liberal won 25-20, 18-25, 25-20, 25-19 as all of Liberal's available seniors were able to contribute.  Liberal's volleyball seniors are Logan Dodge, Ren Watt, Aubrey Warden, Savanna Hebbert, Milly McClure, Shatarrika Ross,  and Mimi Gomez.
Aubrey Warden had 16 kills in the win while Bree Horyna added 15 and Rylie Hallman added 10 kills.  Logan Dodge had 44 assists while Lizzy Cisneros had 28 digs and Warden added 20, Dodge had 16, and Mimi Gomez had 15.
Liberal has won eight of the last 10 and is 10-6.  The Redskins play at Dodge City on Tuesday.