Lady Saints Shock Dodge City with 4th Quarter Rally
Brock Kappelmann - November 27, 2022 8:01 am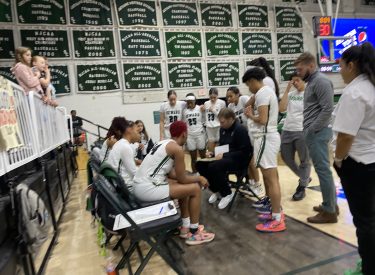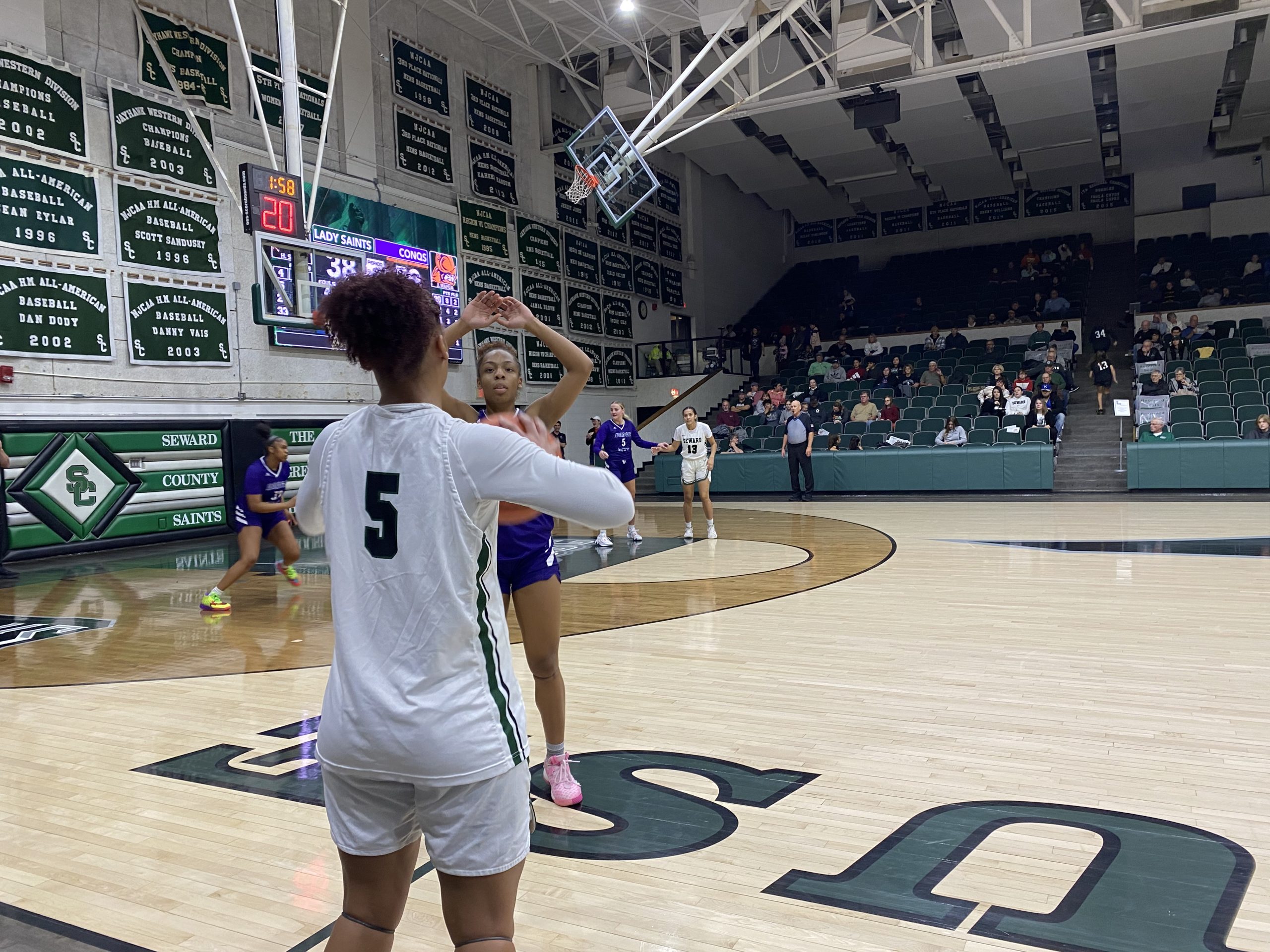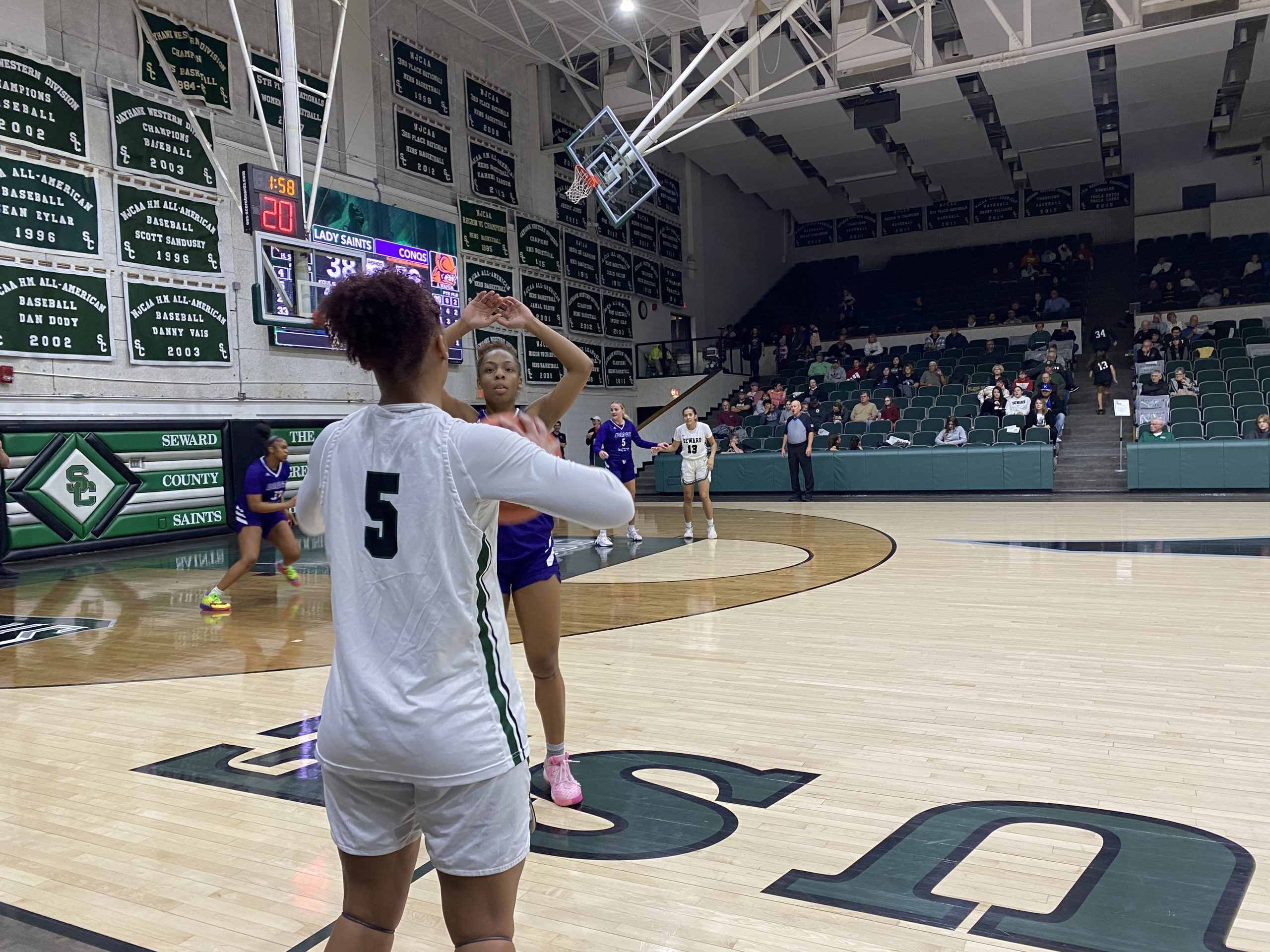 After trailing by 21 in the second half, the Seward Lady Saints out scored the #22 Dodge City Lady Conqs 28-14 in the fourth quarter for a 76-75.  The game's final minutes left the Green House in a frenzy.  Tiana Winn sank a free throw with .3 left to give Seward their first lead of the night.
Dodge City built a 26-16 lead after one quarter.  The Lady Conq lead ballooned to 35-20 before the Lady Saints used a 10-2 run to make it 37-30.  DC3 lead 40-30 at halftime.  Dodge jumped all over SCCC early in the third quarter taking the 59-38 lead and led 61-48 after three quarters.  Seward cut the lead to single digits at 66-58 with 6:20 to play.  It was 70-62 with 4:58 to play and 73-65 with 2:38 to go.  The Lady Saints got to within seven at 75-68 with 2:08 remaining.  Seward made it 75-71 with 1:16 to play.  It was 75-72 with 39.6 seconds left.   Out of a timeout, Seward ran an out of bounds play.  D'Arrah Allen fired a ball from in front of the green seats to the left corner to Halima Salat.  She quickly got her feet set and knocked down a left corner three to tie the game at 75-75 with 9.6 seconds left.  Tiana Winn was fouled with .3 seconds left and missed the first but made the second.  Seward stole Dodge City's desperate in bound pass for the win.
Seward forced Dodge City into 28 turnovers and that was the difference in the game.  Seward shot just under 40 percent and Dodge City shot 45 percent.  Seward was 10-22 from three and DC3 was 5-19.  Both teams made their free throws as Dodge was 20-22 and Seward was 16-19.
D'Arrah Allen had 18 to lead Seward.  Halima Salat scored 17 points and dished six assists.  De'Shawnti Thomas scored 13.  Kylee Hunt dropped in 11.
Seward wins their 32nd straight game against Dodge City and improves to 3-3 overall and 3-1 in the Jayhawk.  Dodge City is 7-2 and 2-1 in the KJCCC.  Seward plays at Cloud on Wednesday at 6pm with Saints Shoot-around at 5:45 on 107.5.