Lady Saints Play Like Royalty
KSCB News - March 16, 2015 9:41 pm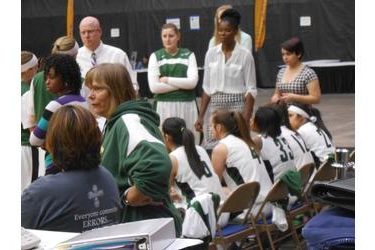 Thirty two point wins are nice.  But 32 point wins in the NJCAA are to be treasured.  The Seward Lady Saints returned to Salina Monday and announced their presence with an 89-57 win over the Lake Region State, North Dakota Lady Royals.  Seward advances to the round of 16 to face 30-2 Walters State, Tennessee Tuesday night at 8:30 on 107.5 and kscbnews.net.  
Seward shrugged off a slow shooting start by frustrating Lake Region State into 16 first half turnovers.  Seward led 45-24 at the half.  The Lady Royals had 23 total turnovers as Seward led the points off turnovers category 24-7.  The Lady Saints out scored the Lady Royals 29-13 at the foul line.  SCCC was 29-32 at the line.
Kyndal Davis dazzled many of the four year coaches looking on with 30 points on 12-19 shooting.  The sophomore from Canyon had six rebounds and five steals.  Brooklyn Artis had 23 points, five assists, and no turnovers.  Jasmine Jordan grabbed 13 rebounds and Daniela Galindo dropped in 11.  
Seward is 28-5 and 15-5 all time at the NJCAA Tournament.  The win is Seward's biggest blowout at the tournament surpassing an 87-58 win over Moberly during the championship run of 2002.  Lake Region finishes 26-8.  
Seward faces 30-2 Walters State, Tennessee.  Toby Wynn's 2007 Lady Saints, beat Walters 56-45 and Jim Littell's 2005 Lady Saints beat Walters 70-57.  Their coach Dave Kragel is a JUCO half of famer with 868 wins in 38 seasons.