Lady Saints Hold Off Dodge City
Brock Kappelmann - March 18, 2021 6:04 am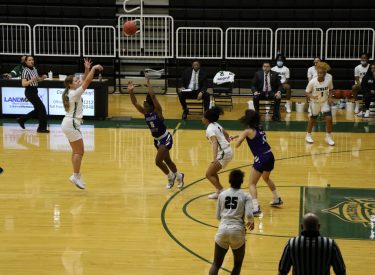 Kenny  Hernandez
LIBERAL, Kan. – Seward County Community Colleges claims a 67-60 victory over Dodge City Community College in the Greenhouse. The Lady Saint improve to 11-4 overall and in conference play. Sophomore Sierra Morrow led the team with 19 points, eight rebounds, and four block shots and earlier in the day was named the KJCCC player of the week.
In the first quarter, the Lady Saints struggled offensively and went down 15-6 to the Conquistadors. At the end of the quarter, Seward found themselves down 21-11 and tied their lowest point total in a quarter. To start the second quarter the Lady Saints connected on two free throws and a layup by Sierra Lynch and trailed 25-15.
Seward went scoreless in seven consecutive possession but Zhane Thompson would break the stalemate with a field goal and Dodge City led 25-17. This started an 8-2 run that closed out the first half as the Lady Saints went into the locker rooms down 27-23. Seward shot 19.5 percent from the field and went one for 23 from behind the three point line in the first half.
At the start of the third quarter, the Lady Saints looked to make a run and get back in the lead. Sydney Wetlaufer started the second half with a three pointer to get Seward County down one 27-26. Seward County found a rhythm offensively and went on an 8-2 run to take the lead at 40-36. Sierra Morrow connected on a three at the buzzer to close out the quarter and give the Lady Saints a 43-38 lead.
In the fourth quarter, the Lady Saints were able to keep the lead but the Conquistadors would not go quietly. WIth 5:53 left in the game, Dodge City cut the LAdy Saints down to one at 48-49 and Seward responded with a 7-0 run to take a 56-48 advantage. The play of the night happened with 45 seconds left Sydney Wetlaufer buried a three on top of the key to giving the Lady Saints a 64-60 lead. With the two possession advantage in the final 30 seconds of action, Seward County knocked down some free throws to seal the win.
Other top performers for Seward County were Sierra Lynch with 12 points, Sydney Wetlaufer with 11 points, and Zhane Thompson with 10 points.
The Lady Saints will be back in the Greenhouse on Friday to take on Cloud County Community College at 2 pm with Saints Shoot-around at 1:45 on B107.5 and kscbnews.net.