Lady Saints Go to Boards to Beat Lady Busters
Brock Kappelmann - December 8, 2022 7:07 am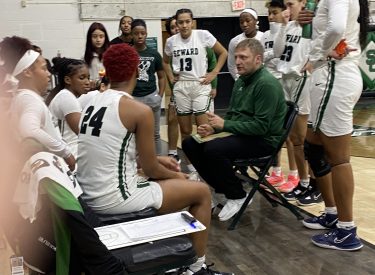 The Seward Lady Saints made their biggest weakness their strength Wednesday night.  On average, Seward was being out rebounded this season 34-45.  But Wednesday night in a 59-47 win over the Garden City Lady Busters, SCCC out rebounded GCCC 55-43.  The Seward defense came to play on a tough night to score.  Seward held Garden City to 26 percent shooting in the win.
Seward jumped out to a 7-0 lead and led 14-9 after one quarter.  The Lady Saints led 22-11 and led 28-24 at the half despite making just 1-15 from three point range in the first half.  Seward led 35-26 early in the second half and led 41-36 after three.  Jailyn Johnson's three pointer gave the "Gals in Green" a 50-39 lead with 4:34 to play.  Seward led by as many as 18 on the way to the win.
Seward won despite shooting 28 percent and 25 percent in the second half.  Garden was 7-34 (21%) from the field in the second half.  Seward gained 16 offensive rebounds in the win.  Seward committed 17 turnovers and GCCC had 16.
D'Arrah Allen had 14.  Kylee Hunt scored 11 points with five rebound, five assists, and no turnovers.  De'Shawnti Thomas had nine points and nine rebounds.
Seward defeats Garden City after the Lady Busters swept the series last year.  Seward is 5-4 overall and 5-2 in the Jayhawk.  Garden City is 5-7 and 1-5 in the KJCCC.  Seward plays at Cowley Saturday at 1pm with Saints Shoot-around at 12:45 on B107.5.