Lady Saints Corral Colby
KSCB News - January 8, 2013 6:40 am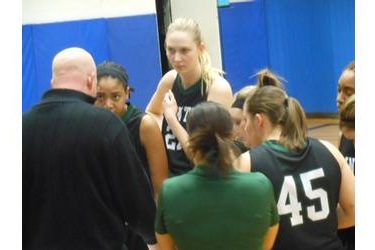 The Seward Lady Saints used a strong first half to hold off Colby 59-50 Monday night in the Colby Community Building. Seward led 31-16 at halftime and led 42-24 before the Lady Trojans (6-10, 0-2) tore off a 21-3 run to pull within two (45-43). Seward then used a 7-0 run to pull away to win their 11th straight over Colby.
Seward (11-4, 2-0) held Colby to 28 percent shooting while shooting 38 percent. Seward was just 3-18 from three point range in the Colby Community Building. Madison McLain shrugged off 6-18 shooting for a team leading 16 points. Shanise Brooks had her best game with 10 points and 14 rebounds. Marta Oledzka added 10 rebounds as the Lady Saints out-rebounded Colby by 10. Fabian Monte scored 10.
Seward hosts Pratt Wednesday night at 6 p.m. with coverage at 5:45 on B107.5 and kscbnews.net.
Mon. Jan. 7
Barton def Dodge City 69-52*
D1#2 Hutchinson def D1#11 Garden City 61-46*
Seward County def Colby 59-50*
Cloud County def Pratt 75-67*