Horrific Third Quarter Dooms Liberal Again
KSCB News - February 4, 2015 7:21 am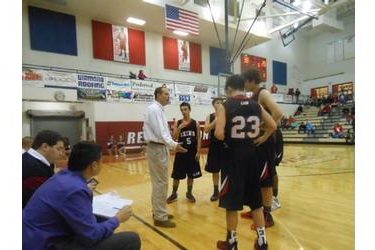 Here is the overly optimistic viewpoint of Liberal's 55-46 loss at Dodge City Tuesday night, Liberal outscored DCHS 44-34. That is only if you don't count a 21-2 run by the Red Demons to begin the second half. It is a lighthearted look at what has become a disturbing trend for Liberal. Play well early, build a lead, then fall apart in the third quarter. That was never more apparent than Tuesday night in the Dodge City Fieldhouse.
Liberal trailed 13-12 after one quarter due to the fact that the Red Demons shot mainly lay ups. Liberal rallied to lead 26-21 at halftime. But Dodge City's pressure man to man defense threw the Redskins for a loop as the Red Demons went on a 21-2 run to lead 42-28 before the end of the third quarter. Game over.
Cade Hinkle scored 12 while Deladris Green dropped in 11 and Hayden Coker scored 10. Liberal loses to the Demons for the 10th consecutive time. The Redskins are 7-6 and 0-3 in the WAC. Dodge City is 6-7 and 2-2 in the WAC. Liberal plays at Great Bend Friday at about 7:45 on 1270 and kscbnews.net. The boys will be featured on the Rowdy Crowd Show Thursday at 5:30 on 1270 and kscbnews.net at Billy's.