Haysville Tops Liberal in Final Game of Series
Brock Kappelmann - June 30, 2017 7:27 am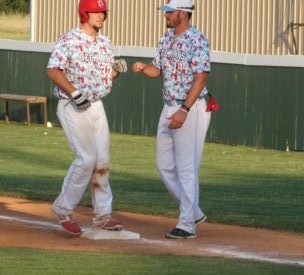 That was unexpected.  Liberal outscored Haysville 63-17 in the first five games this season between the two teams.  But Thursday, Liberal committed two errors allowing two unearned runs and had only five hits.  The Aviators snap a 15 game losing streak and win for the first time since June 9.
Liberal scored first as Nate Crossman singled home a run.  But Brandon Eck of Haysville kept the BJ bats silent most of the night.  Eck pitched a complete game for the win.  Haysville took a 2-1 lead in the fifth on an error, a walk, and a double.  One unearned run scored.  The Bee Jays tied the game after an RBI single by Gage Teer scored Garrett Scott who had reached on an error.  Haysville scored an unearned run on a dropped fly ball in right to make it 3-2 and added a run on two hits and a walk in the ninth for a 4-2 lead.  The Bee Jay made things interesting in the ninth after a HBP to Teer and Kyle Schmidt doubled.  Colton Onstott walked to load the bases with one out.  A fly out to right was out number two.  Marcus Shoemaker walked with the bases loaded to make it 4-3.  But a fly out to left ended it.  Haysville won despite three errors.  Liberal only scored one earned run.  The Aviators out-hit the BJ's 8-5.
Josh Sieglitz pitched five solid innings for the BJ's allowing one earned run with four strikeouts and two walks and to HBP's.  Zach Zeller pitched a scoreless inning and Derek Craft went two innings allowing one earned run.
Liberal falls to 18-5 and is 1.5 games in front of second place Hays.  Haysville is 6-17.  The Bee Jays begin a three game home series with the El Dorado Broncos Friday night at 7 with the Dugout Show at 6:45 on 1270 and kscbnews.net.  Southwest Medical Center is the buyout sponsor Friday night.  They will have a tent and give away merchandise to everyone who walks through the gate and have things to give away each inning.  They will also have multiple nurses on hand to provide a variety of health information.