Four Teams Leave Jayhawk League
Brock Kappelmann - August 22, 2018 2:52 pm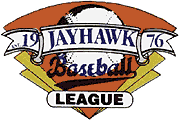 The venerable Jayhawk League received a major blow Wednesday.  Four teams are leaving the league which has existed and more often than not flourished since 1976.  The El Dorado Broncos, Derby Twins, Great Bend Bat Cats, and Haysville Aviators are leaving the league.  They are joining the Sunflower Collegiate League which is made up of south central and central Kansas teams.  They will join Cheney, Haven, Hutchinson, Mulvane, Newton, Salina, and the Wichita Sluggers.
The Broncos are an original member of the Jayhawk.  They were the Hutchinson Broncos until 1985 when they became the Wichita Broncos and moved to El Dorado in 1996.  The Broncos won five NBC World Series titles during that time and won the Jayhawk nine times.  The Twins have been a member of the league since 2005 when they were the Wichita Twins.  They moved to Derby in 2006 won the Jayhawk in 2007.  Haysville was in the Jayhawk four years and won the league in 2015.  Great Bend was in the Jayhawk for two years.
That leaves the Jayhawk with the teams who have finished at the top of the standings in 2018 the Liberal Bee Jays (3rd), the Hays Larks (1st), and the Dodge City A's(2nd).  The Oklahoma City Indians are also a league member although they played 2018 on a one year probation from the league because they did not finish the league schedule in 2017.  That leaves the league with four teams currently.  The league has twice operated with five teams (2004 and 2009) but never as few as four.  Here is a statement from the Jayhawk League.
ANNOUNCEMENT FROM JAYHAWK LEAGUE
"Four teams have left the 42 year old Jayhawk League to join the Sunflower League, which has only been in operation for 2 seasons. These teams are Derby, Great Bend, Haysville and El Dorado. The reason each team gave was an inability to raise the funds necessary to compete in the Jayhawk League. There was very little communication from these teams before this happened and we wish we could have tried to work it out. The remaining teams, Liberal, Hays, Dodge City & Oklahoma are still committed to the Jayhawk League and plans to keep the league viable began last week, and are ongoing. Stay tuned for more information about that. Thank you to all of our fans for your support!"