Fire Forces Evacuation in Laverne
KSCB News - March 11, 2009 12:00 am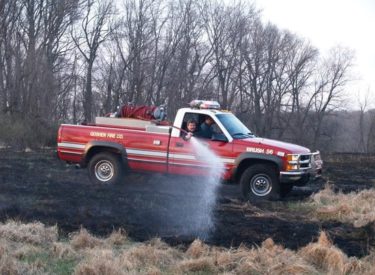 LAVERNE, Okla. (AP) – A large grass fire in Harper County led to
a two-hour evacuation order in the town of Laverne.
Authorities say residents in the northwestern Oklahoma town of
about 1,100 people were urged to leave their homes at 4:30 p.m.
Monday as a fire moved to within a mile of city limits.
Some went to a fairgrounds in the nearby town of Buffalo. Harper
County Emergency Manager Conyetta Lehenbauer (lee-en-BOW'-er) says
residents were allowed to return about 6:30 after the fire threat
eased.
The fire began near U.S. 270 and its cause is under
investigation. It destroyed three outbuildings and did minor damage
to three homes before it was contained. No injuries were reported.
Laverne is about 40 miles northwest of Woodward.